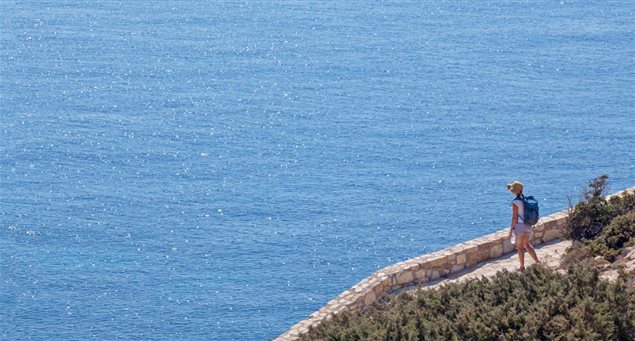 The natural Cycladic landscape on Donoussa consists of cedars, mastic shrubs, vines, fig, olive and plane trees with aromas of various herbs such thyme and saffron. The highest mountain peak of Mt. Papas is at 383 metres.
The five numbered hiking trails are based on the island's original footpaths and take you through the islands natural habitat with sightseeing highlights of old settlements vintage mines, natural springs, churches, a WWII shipwreck, windmills, gorgeous beaches and island vistas.
The difficulty level of the hiking-trekking trails on Donoussa ranges from 1-3 (on a scale of 1-5 being the most difficult). The duration of trails range from the shortest (1 km or .386 mile) at 30 minutes and the longest and most difficult (level 3) of 4,40 km (1.7 miles) takes approximately 1 hour and 30 minutes.
Let's hike to it!
Donoussa's Hiking and Trekking Trail Guide at a glance:
Trail #1
Points: Stavros to Kalotaritissa
Duration: 1 hr 15 min-1 hr 30 min
Length: 4,40 km (1.7 miles)
Level of Difficulty: 3 (out of 5)
Direction: NE
Trail Summary: The most extensive of the island's five trails, this route takes you from the central square of the island's main town, Stavros, and crosses the entire northwest side of the island towards the picturesque village of Kalotaritissa. 
What to see: Views of Xylobati ;old entrance to mines; peak of Mt. Papas; Kalotaritissa settlement; beaches Vlychos, Sapounochoma and Trypiti, Skoulonissi islet; Church of Timios Stavros (Holy Cross) and church of Virgin Mary
Trail #2
Points: Kedros to Messaria
Duration: 30 min
Length: 1.1 km (.42 miles)
Level of Difficulty: 1 (out of 5)
Direction: E
Trail Summary: The route starts from the main road and dirt path leads to Kedros beach and then in the form of Z ascends to the top of Bitili (keep in mind caution is needed when windy due to extremely strong gusts).
What to see: Views of Kedros beach; Ano (upper) and Kato (lower) Messaria settlements, windmills
Trail #3
Points: Merssini to Livadi Beach
Duration: 25-35 min
Length: 9 km (.35 miles)
Level: 2 (out of 5)
Direction: SW
Trail summary: Route with varied and large differences in elevation; steep slopes; joins Merssini with Livadi beach; an offshoot of the path leads to the small beach of Fykio and small port of Merssini; a detour at the beginning of the trail will take you to spring of Merssini.
What to see: Plane tree and spring at Merssini; Livadi and Fykio beach; St. Sophia church
Trail #4
Points: Kedros Beach to Kato Mylos
Duration: 40 min
Length: 1.8 km (.7 miles)
Level: 3 (out of 5)
Direction: SE
Trail summary: This trails follows and old path used by locals to transport "migadi," a mixture of wheat and barley from Stavros to Kato Mylos for milling. It starts at Kedros beach and runs southeast passing by the small bay with Gerantoni's caves and amazing waters. Then go uphill to Choristaria, with the small bays on the right where the millers used to anchor their boats. Finally, after a short uphill, the trail ends at the mill.
What to see: remains of a WWII shipwreck at Kedros beach; iron furnace which was the collection point for the ores from the mines to be loaded onto ships; Vathy Limenari bay; Geometrical era settlement (900 BC)
Trail #5
Points: Stavros to Limni/Aspros Kavos
Duration: 40 min
Length: 2.1 km (.8 miles)
Level: 2 (out of 5)
Direction: NW
Trail summary: Trail that crosses the western side of the island towards the "lake," a small enclosed natural bay with a small sand beach and pebble bottom. The route starts from the main road of the island; a dirt road passes over the area Plakes and crosses the area Sykia. On the left is the Gerogianni bay. After the "lake" the trail leads to Cape Aspros Kavos, one of the most dramatic landscapes of the archipelago.
What to see: old settlement of Zali; areas of Plakes and Skyia – Gerogianni bay; the lake and Cape Aspros Kavos.