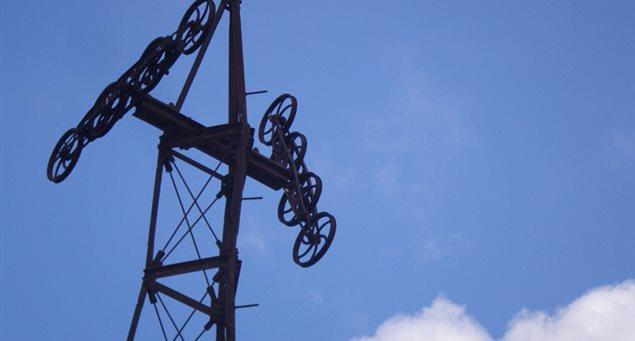 The transportation of emery from the mines to the shipping stations at Moutsouna and Lionas was initially conducted with donkeys over rough trails but this was both energy- and time-consuming.
The construction of a cable industrial railway in 1926-29 was the first important infrastructure project to be implemented on Naxos and represented a milestone for the industry.
It stretched for 9 kilometers from Stavrolagada to Moutsouna and comprised 72 iron pylons with a height of between five and 43 meters, 170 wagons, two engines and seven observatories. Its operation required between 42 and 68 workers.
The two-way cable, 8,720 meters long, connected the five emery loading stations with the port of Moutsouna and made possible the transportation of some 340,000 tons of emery between 1929 and 1982.
The cable railway also added an impressive dimension to the landscape of the island, giving the entire northeastern coast of Naxos a new, unique look and becoming a source of inspiration for various artists.
After the construction of a road in 1982, the transportation of emery is conducted with trucks.
The cable railway has now been designated as industrial monument and its disused installations at Stavrolagada, the shipping station at Moutsouna and the wagons and cables still suspended over the mines continue to impress.
| | | | |
| --- | --- | --- | --- |
|   | Throughout the year |   | Koronos |
|   | 22850 51457, 6944607672 |   | manmanolis@yahoo.gr |
|   | Δωρεάν | | |
| | |
| --- | --- |
| Directions for access | Signposting on the road from Koronos to Lionas directs visitors to the cable railway stations of Stavrolagada, Pezoulia and Pigi. The pylons of the railway are on both sides of the road. |