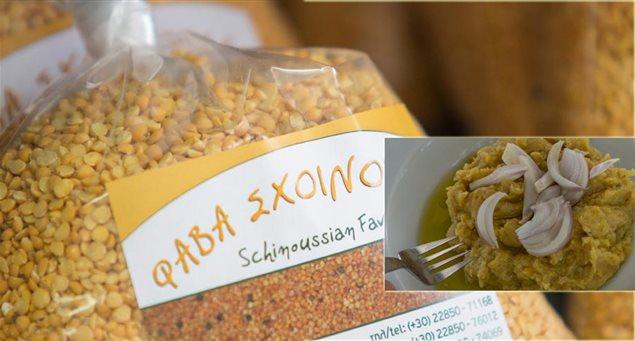 Fava, the general term for the puree of yellow-split pea legumes, has gained more recognition in recent years, due to its health benefits, and, in Greece, because of the many varieties that are cultivated and produced.
Chock full of vitamins and protein, this vegetarian dish, is a hearty addition to meals (especially seafood) or may be served as a standalone, or part of a meze medley. Its rich source of protein make it one of Greece's most popular dishes for times of fasting.
The classic serving preparation of the pureé is topped with chopped onion and olive oil. Still others "marry" the puree with a capers, sun dried tomatoes and other local vegetables.
Long a characteristic dish of the Aegean islands, fava puree may be found on the nearby Cycladic islands.
Santorini's fava from the lythouri seed is considered one of the most popular throughout Greece.
On the tiny island of Schinoussa fava is enjoying a "rebirth" and is considered a trademark staple of the island's local produce, contemporary cuisine and culinary heritage.
The Schinoussa variety is known as katsouni because of its shape.
In September 2012, the island's fava variety won 1st place in the Cycladic Gastronomy Festival on the island of Sifnos.
In 2011 the island hosted its first fava tasting event, a culinary happening they expect to host annually in the peak tourism season.
A bit of fava history
According to local producers, the katsouni seed variety was originally cultivated (and still is) on the nearby island of Amorgos. It was brought over to Schinoussa when families from Amorgos moved to the island in the early 19th century.
Engaging in the industry of agriculture and farming, the island of Schinoussa, more of a flatlands with low hills, minimal rainfall and more lenient coastal northernly winds, proved to be an ideal place to grow the plant. Assisting the production was the infrastructure of protected crops; gated pieced of farmland in which to grow the seed, away from the grazing cattle.
Families each produced their own quantities totaling, then, to about 300 to 400 kilos of fava per year.
Today, that amount has grown to about 5 tons, a number local producers expect to double and maybe even triple in the next few years.
The planting of the seed — free from pesticides — begins in November and lasts through January.  Depending on the rainfall, the seeds are ready for gathering in early Spring.  The process, that ends in June,  is done by hand because of the delicate characteristics of the seed.
Distribution is limited to the island and special requests from restaurants in Greece.
Visitors may be able to purchase the special Schinoussa fava variety from local producers on the island.