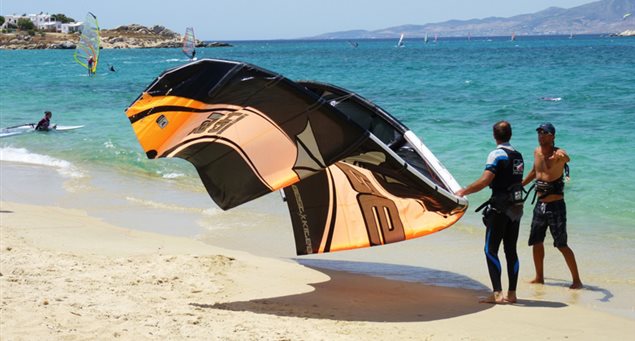 The Kitespot is located in the bay of Mikri Vigla on a nice and sandy beach. The wind direction, side-side on shore from the right (north), makes this bay a very safe place to start kitesurf and windsurf.
The strength of the wind is generated by the high pressure of the mediterranean sea during summer (May-October) as a result what locals call Meltemi start blowing from morning until sunset.
Our experienced team provides courses for beginners or advanced.
Programs are based on the international IKO and VDWS system. Baywatch and safety systems are guaranteed from our staff; rescue boats are available.
The Landboarding school started in April 2012. Classes will be held on a salt lake 100m. from our centre. Courses are held by IKO certified instructor respecting the highest safety standard.
Our Motto:
The Wind is our Passion.. but Don't Pull the Bar!!!
Tel.: 22850 75490
michele@flisvos-kitecentre.com
http://www.flisvos-kitecentre.com