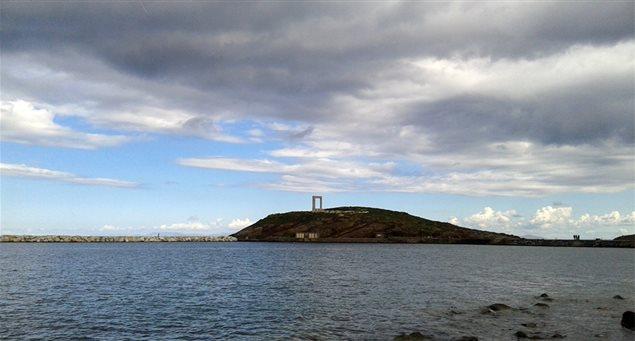 The rainfall on Naxos during the winter and early spring months, adds an entirely different dimension to the Naxos experience. Here are some tips on how to enjoy Naxos if, and when, it might rain. And if you are staying for a couple of days, don't fret, the Cycladic sun will shine again!
Overcast with clouds?
Hed to the nature trails and take a hiking trip: Breathe in and enjoy the mist, smells and fresh air of nature's green in the midst of mountains, massifs green valleys and gorges.
Go to the beach: the sea is beautiful in all its forms, and colors.
Look for the rainbow: Often on overcast days, the Cycladic sun peeks through the clouds creating a fabulous mural of colors and rainbows.
Raining? Then take it indoors!
Visit the museums in the Old Town. There are several to choose from. Take the opportunity to delve deep into the historic ages: Neolithic, Early Cycladic, Medieval and Venetian.
Play a game of backgammon! Go to a traditional Greek kafeneio (coffee house) and play a round of backgammon (tavli) or playing cards with the locals. Play reporter and ask them to share some stories with you. You'll be surprised at what interesting tales, stories you might hear and things you might learn.
Get romantic at home. Have your own wine and cheese tasting at your hotel and or place you are staying. Go to the town and buy some local cheese varieties, some warm oven-baked bread, some local wine and, depending on where you are staying, chill out listening to the waves or the rustling of the trees in the distance…
Go to the gym! There are several on the island. Ask around for the closest to your room or hotel.
And, if it's not too stormy, head to a cafe or bar along the paralia (or port promenade) with a view of the port and watch the bustling passengers coming and going.
And don't fret: It it rains on Naxos, it's very likely that …the sun will come out soon!