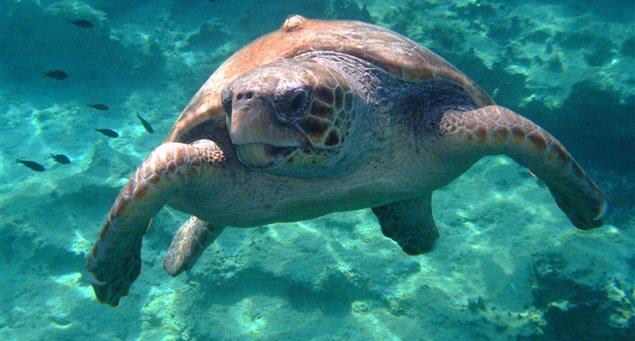 The sea turtle "Ioannis"/Photo credit: Lynne Neilly
The sea life found in Iraklia waters includes a variety of shellfish, corals, sponges, as well as numerous fish species, some of which are endangered, such as blue-fin tuna, swordfish, and ocean sunfish.
As for marine mammals, the most common here is the bottlenose dolphin. Far less frequent visits to these waters are made by the regular dolphin species, striped dolphins, and Mediterranean monk seals. The sea turtle caretta caretta appears frequently but does not lay eggs at this location. A dead young sperm whale was once found in this area. Its skeleton is kept in neighboring Naxos, at the Apiranthos Natural History Museum.