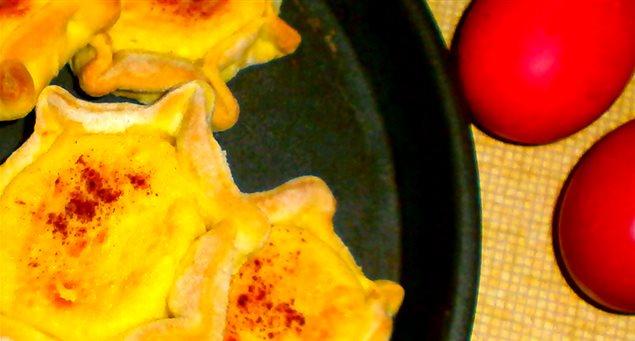 Ingredients:

For the pastry:
300 gr flour
1 tablespoon olive oil
3-4 drops of vinegar
a pinch of vanilla essence
a pinch of sugar
1 πρέζα αλάτι
1 egg yolk
a pinch of salt
enough water to make a firm dough
For the stuffing:
1 kg fresh myzithra cheese (unsalted)
700 gr sugar
½ teaspoon ground mastiha
3 egg yolks
3 whole eggs
300 gr self-raising flour
½ teaspoon cinnamon and some more to sprinkle on the sweet
little milk if needed to soften the mixture
Directions:
Pastry:
Put the flour in a large bawl and throw all the ingredients in the middle except the water. Add the water little by little, kneading to get a firm dough, and let it rest for a while.
Stuffing:
Add the sugar and the eggs to a bowl with the cheese and stir using the mixer. Add the rest of the ingredients  and keep stirring till you get a smooth mixture. If needed, add a little milk to soften it.
Spread out the dough into a flat, thin pastry and lay it out on a baking tray that you have brushed with butter, making sure the pastry covers the sides of the tray. Pour the myzithra mixture into the tray, spread it out evenly and sprinkle with cinnamon.
Preheat the oven at 200o C and bake at 170o C for about an hour until brown.