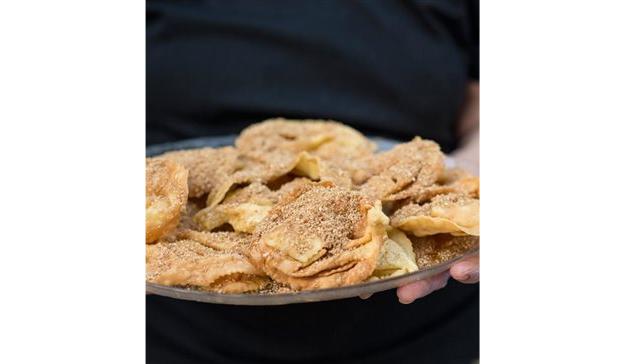 Fried dumplings with sesame seeds and honey.
Ingredients
1 kg. flour
½  cup of olive oil
enough water to make a smooth dough
a pinch of salt
½ cup of sesame seeds, roasted and partly pounded
honey according to taste
olive oil for the frying pan
Directions
In a large bowl, mix the water, olive oil and salt together, adding the flour gradually. Use as much flour as necessary to make a smooth but not too firm dough.
Spread out the dough with a rolling pin and cut it into thin strips (about 5cm wide and 15-20cm long).
In a large frying pan, heat the oil until quite hot and fry the strips until golden.
Place the fried curly strips on a piece of kitchen paper laid on a large platter to drain.
While still warm, drench with honey and sprinkle with sesame seeds.