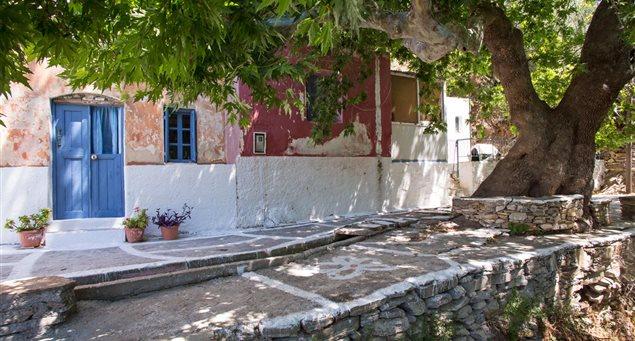 A wonderful landscape and a sense of a pristine natural environment enchant the visitor to the small village of Myli, in the lush Melanes valley in western Naxos.
The three neighborhoods that comprise the settlement are connected with a beautiful trail dotted with old watermills (still featuring their huge funnels) from which the name of the village is derived.
The oldest of the three neighborhoods, Kato (Lower) Myli, has low, two-room houses with courtyards but most are now abandoned.
Messi (Middle) Myli features just five or six two-storey houses built in the 1930's and a whitewashed alleyway, while in Pano (Upper) Myli, where most of the few remaining inhabitants live, efforts are being made to restore several houses.
The old aqueduct with the waterfalls, the mills that ground the barley, the old houses and the welcoming people give a special sense of joy and of a backdrop in time.
| | |
| --- | --- |
| Directions for access |  Myli is accessed via the road from Chora to Kynidaros. |
| Parking  | A parking lot is available. |
| Public transport info  | There are public bus connections from Chora from the morning till the early afternoon hours. |