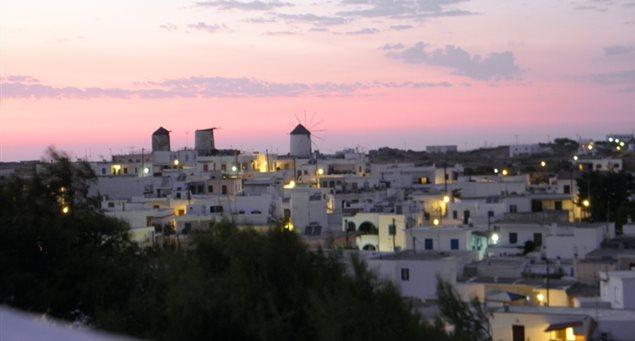 Tripodes, or Vivlos, is one of the largest and most picturesque villages in southwestern Naxos, 9km from Chora and very near the famous beach of Plaka.
The ruins of Plaka Tower and the the chapel of Agios Mattheos, which is built on the ruins of an ancient temple, lend credence to the view that the settlement was originally built in the seaside area of Plaka.
The fear of pirates forced the inhabitants to move their settlement inland, to various positions at different times, coming to settle at the present location during Frankish rule in the Middle Ages.
At one of the locations that the settlement is said to have been in the past, Kechries, are the ruins of the tower of Ga –a resort of Ioannis Ga, a Naxos notary. A little further west are the ruins of the tower of Ai Giorgis, which, built like an eagle's nest on a precipice, seems to have served as a protective bastion for the Ga tower.
Today Tripodes, with its whitewashed houses, slate-paved streets and picturesque windmills, exudes an authentic Cycladic ambience and is one of Naxos' most lively villages, with more than 800 permanent residents.
The village of Tripodes has prospered thanks to the plain of Plaka where, besides the nationally famous Naxos potatoes, fruit, vegetables, barley and vines are also cultivated.
The list of sights includes the imposing parish church of Panagia Tripodiotissa –the village patron saint, a number of traditional windmills –a landmark at the entrance to the village, the Plaka Tower –also known as Paleopyrgos or Ariadne's Tower, and the Folklore Museum, housed in the restored olive mill.
Several kafeneia are found around the square with the big eucalyptuses, while ample local production ensures a wide array of delicacies and good wines in the village tavernas. A big feast for Panagia (Virgin Mary) is held on August 23, attracting people from all over the island.
| | |
| --- | --- |
| Directions for access | Tripodes is 9km from Chora. |
| Parking  | There are parking areas in various points in the village. |
| Public transport info | During the summer season, take from the KTEL terminal any of the buses to Tripodes, Livadia or Pyrgaki, Kastraki, Mikri Vigla and Alyko. |