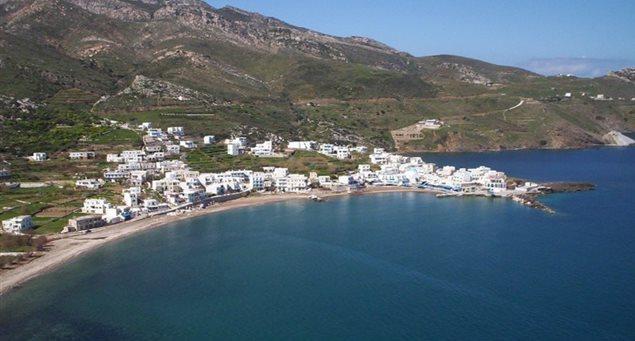 Apollonas, the port village of the settlement of Komiaki on Naxos' northeastern coast, has been inhabited since antiquity, mainly on account of the marble quarry that extends to the north and west. It was also the port from which Naxos marble was exported throughout the operation of the ancient quarry.
The huge ancient marble statue (Kouros) of Apollo lies in supine position just a few meters outside the entrance to the village, while remnants of the ancient port have been found at Marmara position.
Another sight in the area is the ruins of the prehistoric fort of Kalogeros, towering on a hilltop above the inlet.
The village of Apollonas today is the most touristically developed settlement of northern Naxos. Featuring picturesque white houses spreading behind an attractive sandy beach, rooms to let, hotels, tavernas and cafes, it is suitable for relaxing breaks and as a base for exploring the surrounding area which is replete with unique sights.
Agios Ioannis is the patron saint of the settlement and celebrates on August 29. Vespers on the eve are followed by a litany procession of the icon and a traditional feast in the local tavernas.
The village also holds the annual Fisherman's Feast on June 28, when the blessing of the waters and boats is followed by feasting.
| | |
| --- | --- |
| Directions for access  | Apollonas may be reached via either the main western road from Chora to Eggares or the central main road to Stavros Keramotis. |
| Parking  | Parking area is available. |
| Public transport info | A public bus service is operated with several connections daily, especially during the summer season. |