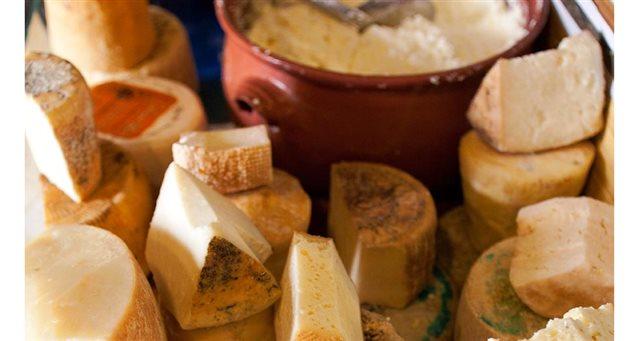 Today, the Naxian cheese industry includes a wide variety of tastes.
Interestingly, many local producers persist with the traditional production methods while having modernized their installations.
Only a few characteristic Naxian cheeses are presented here but it is worth seeking out more.
Naxos Gruyere – The most widely-recognized Naxos cheese is the Naxian cheeses gruyere, the production of which has been protected since 1988 and carries a Protected Designation of Origin (PDI) since 1996. It is made with a minimum 80% cows milk, 20% goat's and cheep's milk at most and traditional rennet. It is a hard, table cheese, with a pleasant flavor and fragrance.
Kopanisti – Another PDI cheese is kopanisti. Depending on the era it is made with pasteurized goat's or cow's milk of Naxos. It is soft cheese ripening with flavor quite strong and quite spicy.
Xinomyzithra – Another well-known Naxian cheese is xinomyzithra, a cream cheese with a slightly sour taste, mainly made with goat's milk. It is ready in 24 hours after the milk has been drawn and has to be consumed within a few days because it is fresh and contains no preservatives.
Xinotyri is the same cheese as xinomyzithra, only it is left to dry for several weeks, until it becomes hard.
Arseniko – Another traditional cheese variety is kefalotyri, locally known as arseniko ("masculine"), which is produced with 100% sheep's milk. It is a hard cheese in cylindrical shape, with a hard but relatively thin outer layer and a color between off-white to off-yellow. It has a pleasant salty and piquant taste and rich aroma.
Thylikotyri – Besides "masculine," Naxos also produces thylikotyri ("feminine cheese"). This is produced right after arseniko, it is white in color, with a velvety texture, light buttery flavor and a balanced salty taste. Despite being low-fat (19%-21%), it has a pleasant taste and it best accompanies wine.
Komos – Another cheese worth tasting is komos, prepared as a sequel to thylikotyri. The cheesemakers would gather what was left of thylikotyri and let it ferment with aromatic mountain herbs. The retult was komos, a very low-fat cheese that best accompanies spirits, ouzo and tsipouro.