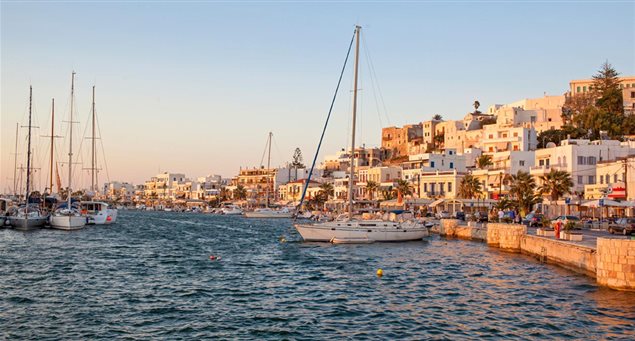 It is one of the leading destinations for wind surfing and kite surfing; its sandy beaches are great for the kids; and its historic and mythical legacy are a wonder for culture vultures.  But what is there to do on the island of Naxos in the autumn, winter and fall?
As a member of the group of islands renowned all over the world as the Cycladic Islands, Naxos is home to lots of summer fun and action.
But what is there to do on the island of Naxos in the autumn, winter and fall?
Lots. Here are some off-season highlights.
Naxos in Autumn (September-November)  Autumn travel to Naxos offers the best of both worlds: warm and sunny temperatures in September and often October provide a chance to enjoy swimming and water sports, while cooler temperatures in November offer a more refreshing outdoor activities experience (hiking, mountain biking, horse back riding). Seven numbered hiking trails and six bicycle routes take visitors through some of the island's and Cyclades' most impressive archaeological and spiritual monuments: Mt. Zas, the Cyclades' tallest mountain peak; one of Greece's largest collections of Byzantine monuments; the Temple of Demeter and more. Culinary travelers may take in the wine harvest in September; rakitzio local village celebrations during distillation of the alcoholic spirit raki in late October; and the beginning of the olive oil harvest in November.
Naxos in Winter (December –February) The mild Naxos winters can still be a bit chilly for water sport enthusiasts (not that it stops them), but is geared more for those who prefer the colder mountain air and those who want to experience village and island life in the winter.  Culinary travelers may seek out the island's vibrant farming and agricultural industry including potato picking, cheese making and citron liqueur distillation, not to mention the rich culinary traditions of Lent.  Party goers may indulge in one of the region's liveliest Carnivals!
Naxos in Spring (March –May) The spring is one of the prettiest times of year as the island blossoms with beautiful flora. The island boasts a wide variety of species thanks to its large number of natural habitats and its significant water resources.  Discover some of the regions rare species (over 20 species of orchids, for example) and breathe the fresh air through trails and comfortable-for-hiking temperatures. Take part in the very traditional and religious island-celebrations of the Greek-Orthodox Easter and savor the rich cultural and culinary traditions of the season. Combine your trip with a visit to the more remote isles of the Small Cyclades – Iraklia, Schinoussa, Koufonissia, Donoussa — each with their own unique landscape, spring blossom varieties and Greek Easter treats and traditions.