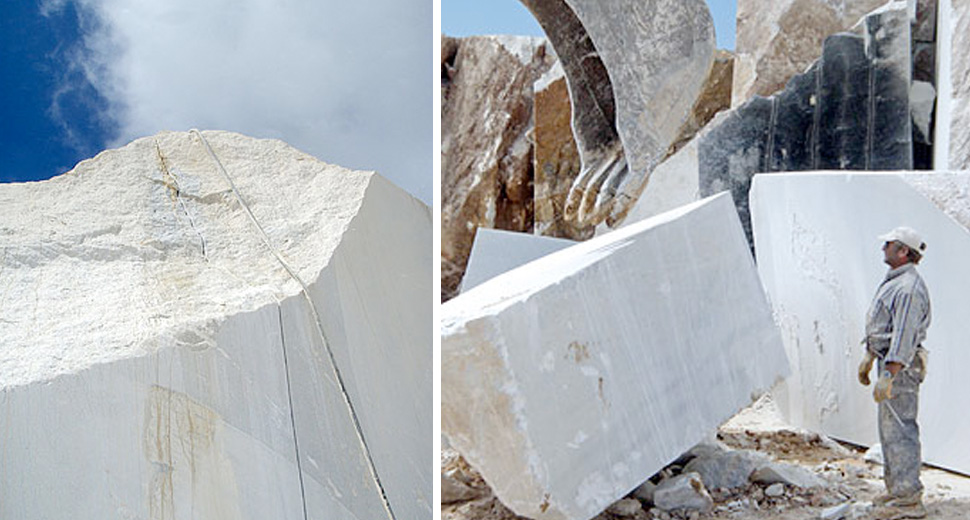 The juxtaposition of ancient and contemporary marble craftsmanship is apparent throughout Naxos.
The inspiration that led artisans to create the Cycladic figures large and small in ancient history continues today as masters of Naxos's Crystalline marble develop their own art.
Several artists who visited Naxos from other countries have remained, making Naxos their home, and its marble their material of choice to create sculptures, statues and light fixtures, and a myriad of other object d'art.
Some artisans, native to Naxos, also have opened their own workshops; each contributing in his or her own way to the continuation of this island's glorious history of marble craftsmanship.
Here we present works made with Naxos marble then and now.
Now On Naxos:


Work/Artist: Ariadne auf Naxos, 2004, height 240cm, marble, Wolf Bröll
Where to see it: Promenade on the way to Temple of Apollo, Chora
Work/Artist: Aphrodite on Naxos, 2009, 2m x 3.5m, René Küng
Where to see it: Azala
Work/Artist: Marbre, 1,60×3,40 x1,30m, 2012, Eric Alcyon
Where to see it: On the road towards Agiasso  (at the crossroad that leads towards the Byzantine monument Panagia t'Archatou)
Works/Artists: Various, Ingbert Brunk, Alexander Reinchart

Where: Fish and Olive gallery, Chalki and workshop at Moutsouna

Resident artists that work with marble and have workshops on Naxos include:


Artist: Ingert Brunk
Workshop at: Moutsouna
Artist: Olga Plastira
Workshop at: Vivlos, on the road towards Kastraki
Artist: Nicolas Verikokos
Workshop at: On the road towards Potamia
Artist: Christos Boulaxi
Workshop at: Eggares
Also a short distance outside Eggares is a two-arched, elegant marble bridge, built in 1899.
And then …
Naxos Marble has been used in some of archaeology's most significant ancient temples, sculptures and works of art. Some of these works are on view at museums all over the world.
Here is a list of some:
On the island of Naxos
Where: Archaeological Museum, Chora, Naxos
What: Marble early-Cycladic figurine, 2800-2300 BC
Where: Chora, Naxos
What: Portara, Temple of Apollo (6th century BC)
Where: Gyroulas, Sagri, Naxos
What: Temple of Demeter (530-520 BC)
Where: Yria, Naxos
What: Sanctuary of Dionysus (13th century BC)
Where: Faraggi, Flerio
What: Ancient Marble Quarry 1

Where: Apollonas
What: Ancient Marble Quarry 2
Where: Apollonas
What: The Kouroi statues (2)
Where: Koronida (Komiaki)
What: The ancient quarry
Where: Melanes
What: Kouroi


Other parts of Greece

Where: National Archaeological Museum, Athens
What: Statue dedicated to Artemis by Nikandre of Naxos from Delos, marble
7th century BC

Where: Museum of Delphi, Delphi
What: Sphinx of Naxos Delphi (ca. 570 BC)
Where: Island of Delos

What: House of the Naxians; Terrace of the Lions (7th century BC)
United States
Where: Metropolitan Museum of Art, New York City
What: Kouros, made of Naxian marble, 590-580 BC