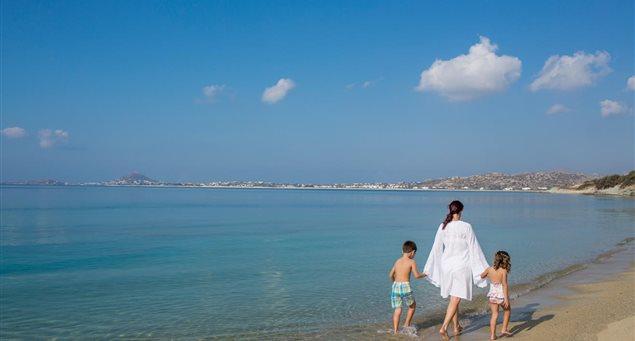 The diverse landscape of Naxos of mountain and sea plus the additional access to its four surrounding smaller islands (the Small Cyclades), means that these five island destinations cater to all ages and tastes.
Whether traveling solo, with friends or with the family Naxos is the ultimate place to consider for a traditional long summer holiday or even an "island city" break for those just wanting to get away from it all – any time of year.
Here is a quick breakdown of what and why to choose these group of islands for your next holiday:
Solo Travellers

Island: Naxos

Why go: Take up a new sport! The island's many sport activities such as watersports, hiking trails is ideal for single travellers seeking to learn something new.
 Also culinary travellers may delight in tasting the seasonal fare.
When: Year-round
Women Travellers

Island: Naxos
 and Koufonissia
Why go: For women who like to combine fun and culture. Shopping, sightseeing, swimming, hiking and just enough nightlife.
When: Spring to early fall.
Travelling with the Family

Island: Naxos 

Why go: for its facilities for families, waterparks and blue-flag awarded sandy beaches; plus introducing the kids to the figures of Greek mythology by visiting the island's many archaeological sights.
When: Late spring, summer
Friends and Singles

Islands: Naxos and the isles of the Small Cyclades: Iraklia, Schinoussa, Koufonissia and Donoussa

Why go: Island hopping! In the center of many of Greece's most happening Greek islands, Naxos and the isles of the Small Cyclades are a must for those who want to island hop! Naxos is easy to get to from hotspots Mykonos and Santorini; and then head to Naxos for some hiking and sightseeing and chill out on the more remote islands of the Small Cyclades.

When: Summer
Couples

Island: Naxos and the isles of the Small Cyclades: Iraklia, Schinoussa, Koufonissia and Donoussa

Why go: For the romantic sunsets, walks on the sandy beach and the challenge of finding your very own secluded beach.
When: Late Spring to early fall