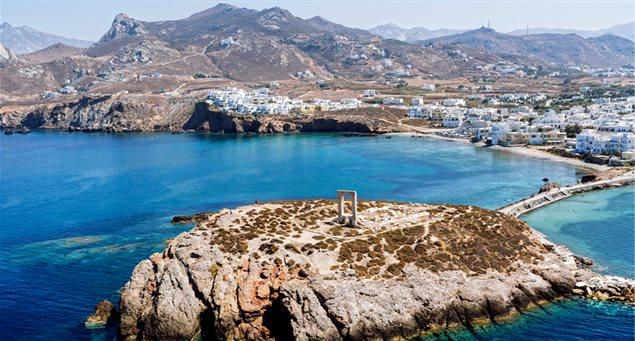 Naxos, the largest of the Cycladic islands, is a unique travel destination because it incorporates the communities of four additional smaller isles – Iraklia, Schinoussa, Koufonissia and Donoussa — that belong to the Municipality of Naxos and Small Cyclades, hence the term "Naxos and the Small Cyclades. Five Islands. One Destination."
Shaped like a rhombus, Naxos may be referred to as a diamond on the Aegean, with 4 colorful gems alongside, giving it an added sparkle unlike any other in the region. Our logo makes reference to this characteristic – four colorful dots encircling the larger "mother" island
What does this mean for the traveller?  
Variety, choice and the opportunity to experience the best of both worlds: that of a larger island with access to the more remote.
Naxos, in itself, is a destination that could take weeks to explore, while the smaller isles – Iraklia, Schinoussa, Koufonissia and Donoussa — offer a more condensed holiday experience.
Naxos with its many beaches, buzzing downtown and historic Old Town takes the Cycladic island experience a bit further.
With a vast landscape of green valleys, mountains, and pristine coastline, it offers a lot to the traveller, from a quiet and relaxing holiday with swimming, good food and sightseeing, to a more recreational fun type of adventure vacation with water sports and all-level hiking trails.
With a long history that dates back to prehistoric times, each island keeps it exciting with local gastronomic specialties, fantastic myths, captivating legends and a telling history and landscape that are worth discovering.
The added value of the nearby Small Cyclades is the chance to hop on over to a smaller island to experience untouched, romantic and, in some cases, soft rugged beauty.  The beaches are crystal clear and there is an aura of calm that surrounds.
Whichever one you pick to visit, each one offers a different type of luxury – the luxury of peace, quiet, serenity and a return to the wholesome, with just enough sightseeing, adventure and culinary heritage to offset the long lazy days at the beach.
Things to know:
When is the best time to visit Naxos? 
Naxos is an all-year destination. The island's varied landscape and topography of mountains, valleys and seacoast, offers a wide variety of things to do depending on interest, taste and level and appetite for adventure! Of course, the high season for summer fun is late spring to early fall (May-September). Sport enthusiasts can indulge in hiking, mountain biking off-season, while culinary aficionados might want to explore the culinary harvests unique to each season.