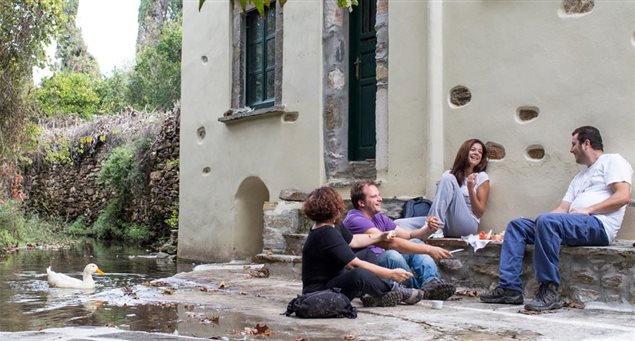 It has been said that people from the islands tend to see the world with an open mind, due to the vast seas that surround their land enabling them to see far beyond …
Add to this the general exo kardia, or openhearted temperament of the Greeks and you have individuals with a passion for living life to its fullest and for meeting people from all walks of life.
Such are the natives of Naxos and the isles of the Small Cyclades: Iraklia, Schinoussa, Koufonissia and Donoussa.
Living on islands that are essentially at a crossroads in the Aegean, Naxians and their neighbors are quite familiar with the concept of people coming and going.
An appropriate metaphor, symbolic for the region, is surely Naxos' archaeological landmark Portara (or large door), at the Temple of Apollo that welcomes visitors upon their arrival, by sea.
This fabric of arrival and departure in the daily life of these residents means that they are patient, good listeners, interested in hearing your tale and where you came from. They are especially curious to know your thoughts regarding their island, community or village.
Lovers of nature, the sea and of the myths, legends and rich cultural heritage that have been handed down through generations, the people of Naxos and the Small Cyclades have many interesting stories and traditions to share. Skilled craftsmen, farmers, fishermen and home chefs, they appreciate the gifts of the land and of the sea, taking special care to cultivate both.
In general, there are approximately 18,000 permanent residents living on Naxos today, making it one of the highly populated islands of the Cyclades.
The isles of the Small Cyclades have only a handful of yearlong residents in comparison (Iraklia (approx. 150), Schinoussa (approx. 225), Koufonissia,(approx. 400) Donoussa (approx. 170).
Old and young families rely on their own resources and peak season tourism to maintain their island lifestyle in the off-season months (Oct-May); which are no doubt a bit different from the popular spring summer and early fall, when the islands are populated with tourists.
The unifying element among all the residents of the Municipality of Naxos and the Small Cyclades is the pride they share for their land, their beaches and their traditions.