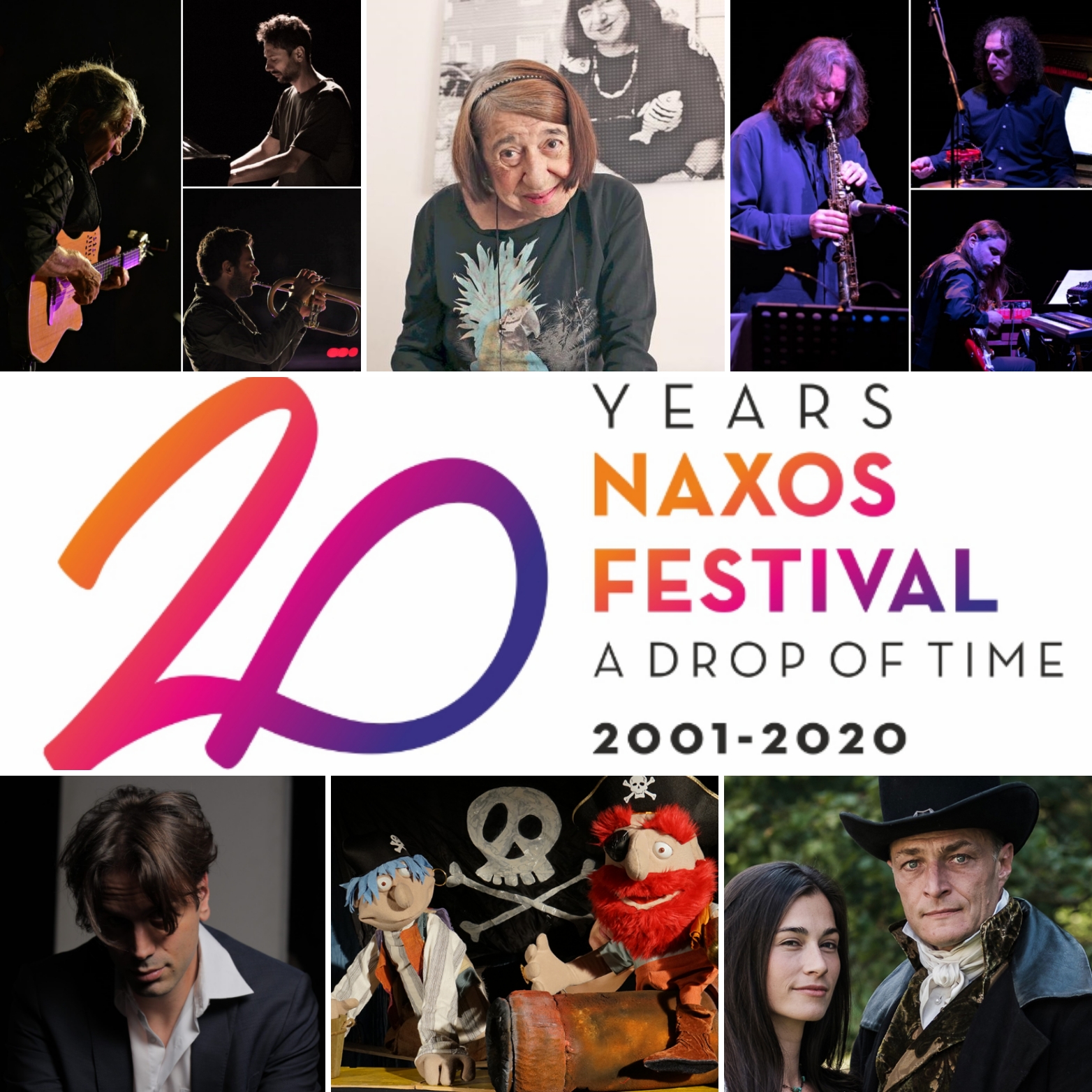 The predominant sentiment marking the 20th edition of the Naxos Festival is that of a lightning, a flashing flare, the feeling prompted by the dizzying flow of time when time is used creatively, influentially and fruitfully.
Round-number anniversaries offer an opportunity for review and appraisal, deconstruction and regeneration. A fertile passage to the new normalcy. 2020 is one such moment for the Naxos Festival.
A drop of Time
Art Exhibition
Bazeos Tower from July 4th to September 23rd 2020
Daily except Mondays 10.00-17.00
Costis Antoniadis is presenting a brand new thematic titled: "If icons had a life to live."Ingbert Brunk has been working exclusively with marble. On the occasion of the Festival's 20th anniversary, he completed a series of works titled "Transparent Time."
Curator: Mario Vazaios. Organizer: AEON
29/07 Wednesday | 21.30
Aegean Jazz | A particularly atmospheric concert based on Aegean musical characteristics and cadences, within the context of contemporary jazz trends.
Stahthis Anninos piano, keyboards – Andreas Polyzogopoulos trumpet, saxhorn – Vassilis Rakopoulos classic guitar, vocals.
Tickets: 15€
02/08 Sunday | 21.00
Woodwinds from ERT National Symphony Orchestra
Nikos Dimitratos flute – Aggelos Politis clarinet – Vasilis Priovolos bassoon – Victoria Fioralba Kiazimi piano.
Free Admission, the number of seats will be limited.
05/08 Wednesday | 21.00
Temple of Dionysus in Yria |August full moon concert
David Lynch tenor and soprano saxophones, flute, alto and piccolo flutes, Irish whistle, keyboards, Styrofoam, narrative – Stavros Lantsias
Clavinova piano, keyboards, drums, percussion – Vaggelis Stefanopoulos
electric guitar, Clavinova piano, keyboards, loops and soundscapes.
Free Admission, the number of seats will be limited.
Co-produced by: Naxos and Small Cyclades Municipality – Ephorate of antiquities of Cyclades – Naxos Festival.
12/08 Wednesday | 20.30
An evening dedicated to Katerina Aggelaki Rook | Lecturer Thanassis Niarchos | Readers: Peggy Stathakopoulou & Manos Karatzogiannis.
Free Admission.
13/08 Thursday | 21.30
"The thought" A play based on a novel by Leonid Andreyev | Translation: Katerina Aggelaki Rook | Directed by Stelios Krasanakis | Acting: Manos Karatzogiannis |Costumes: Ioanna Tsami |Music: Telemachos Moussas.
Tickets: 12€
19/08 Wednesday | 20.00
"Fearless pirates" The OUPS group! Interactive muppet show for children of all ages. Puppeteers-narration: Aggeliki Gounaridi – Alexandros Monokandylos.
Tickets: 10€
22,23,25,26/08 CINE-czech-FIL |20.30
Projection of renowned movies with Greek subtitles loved by people of all ages in co-operation with the Cultural Centre of Czechia.
Free Admission.
22/8 Closely watched trains (1966, 92'). Directing: Jiří Menzel.
23/8 The princess with the golden star (1959, 78'). Directing: Martin Fryč.
25/8 Elementary school (1991, 97'). Directing: Jan Svěrák
26/8 The Hastrman (2018, 100'). Directing: Ondřej Havelka.
28 & 29/8 Velvet Bus
An "on the road" DIY festival, with music, visual arts, cinema and various educational activities.
Free Admission.
Organizer: "AEON" Non-Profit Cultural Organization
72 Pratinou street | 116 34 Athens GR | T. +30210 7258741
Artistic Director: Stelios Krasanakis
Production Manager: Mario Vazaios
Technical Support: Michalis Mathiasos
E. naxosculture@gmail.com
Ticket availability for Naxos Festival:
Bazeos Tower, 12th km of Naxos Town-Agiassos road. Tel. 22850 31402.
Kindly be informed that the number of seats for Naxos Festival events this year will be limited and that we may not be able to accommodate everyone requesting admission. We recommend that you purchase your tickets in advance.
Venues:
-Bazeos Tower: 17th-century monument, in the mainland of Naxos.
12th km of Naxos Town-Agiassos road | Tel. +30 22850 31402
-Yria archaeological site: Livadi Naxou | Tel. +30 22850 42325
Considering everyone's health and well-being, we strongly recommend that spectators keep safe distances and they wear protective face masks when arriving at and departing from all venues where Naxos Festival events are being held.