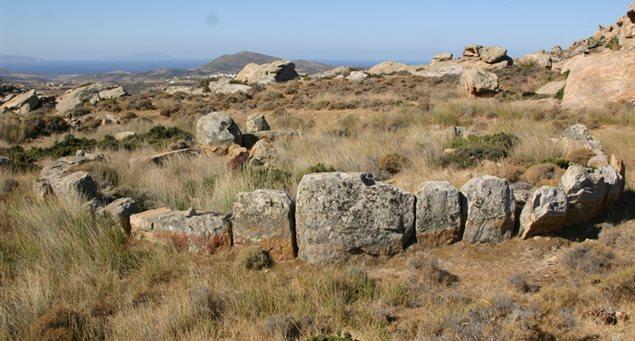 The low hill at Korfari, Amygdalies, is situated NW of Panermos bay, on Naxos's southern coast.
Excavations at the top of the hill brought to light a fortified settlement dating to the second half of the 3rd millennium BC (2500-2300 BC).
The finds include about 20 small, stone built rooms inside an elliptically-shaped fortification wall with five horse-shoe-shaped towers.
The fortified acropolis of Panermos on Naxos has an architectural form unique in the broader Aegean region and was a landmark in the development of Naxian society.
It was a collective project, the planning, construction and operation of which depended on the existence of a hierarchical society.
From this point of view, the acropolis constitutes a unique monument of the passage from the small farming communities to those of an "urban" character.
From that point in time, life in the Cyclades continued in the early urban centers, many of which are still alive –the most characteristic example being that of Grotta, in main town Chora.