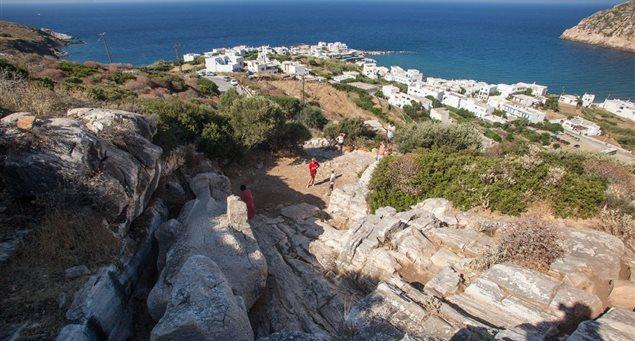 Near the coastal settlement of Apollonas on Naxos is one of the two ancient marble quarries of Naxos, where sculpture, the greatest art of antiquity started.
Hundreds of half-finished statues and blocks of marble would be slided down on ramps from here to the pier of the ancient port of Apollonas for further transportation to the island of Delos and various other places.
The colossal but unfinished 11-meter statue (Kouros) of Dionysus, as well as many remnants of other unfinished statues, parts of architectural structures, marks from chisels and carved surfaces can be seen today all over the hill and slopes of the ancient quarry.
The half-finished, colossal statue of Kouros of Apollo and numerous remains of marble works and other half-finished Kouroi are still seen at the quarry today, along with abundant traces and evidence of the quarrying process throughout the hill.
The ancient sculptors used to dispose of useless debris –mainly gravel- by throwing it down the slopes above the sea. The locals contend today that this discarded marble still covers the coastal slopes and has been used to built the terraces.
The top of the hill above the quarry –named Grammata- features an inscription that reads "ΟΡΟΣ ΙΕΡΟΝ ΧΩΡΙΟΥ ΑΠΟΛΛΩΝΟΣ" ("Holy Mountain of Apollo"). It dates to the 5th-4thcentury BC and probably belongs to a sanctuary of the god that existed there.
| | |
| --- | --- |
| Directions for access | The Kouros of Apollonas site lies quite close to the settlement of Apollonas and there is a connecting pathway. |
| Accessibility for wheelchairs | Not accessible for people with mobility limitations |