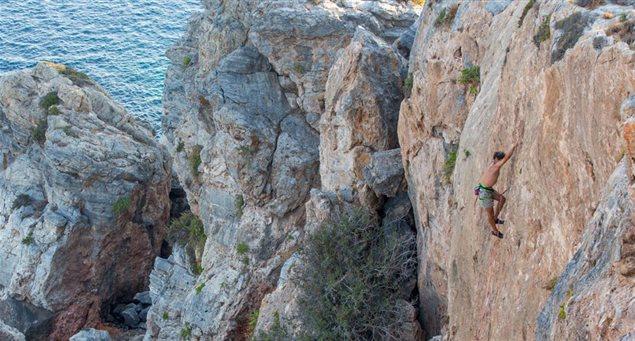 A fairly new activity for the small Greek island of the Small Cyclades, friends and fans of the sport have already teamed up to form an impressive rock climbing track of 27 routes for all levels of difficulty.  We asked the organisers to give us some insight of how to get on the rocks … on Schinoussa!
We asked the organisers to give us some insight of how to get on the rocks … on Schinoussa!
Question: When did rock climbing first start on Schinoussa?
Answer: The inspiration is credited to France native and mountain guide Christopher Moulin, whose mountaineering portfolio spans the mountain ranges of the world. Several fans of the sport, volunteers and the community of Schinoussa teamed up to make this idea a reality.

Q: Why is the island suitable for this sport?
A: The location and the geological makeup of the island consisting of limestone and a unique rocky formation starting from town and leading into the sea, creates a natural environment suitable for the sport of climbing.

Q: What are the levels of difficulty of rock climbing on Schinoussa?
A: It varies. There are training routes, routes that are of medium difficulty (that makes up for most of the routes) and others that are more advanced and of high difficulty.
Q: Is there a map of rock climbing routes?
A: All routes are mapped with details including the name, field, degree of difficulty, and length.
Q: How many paths are there and how do they compare?
A: There are 27. They differ in difficulty and length.
Q: When does rock-climbing season on Schinoussa begin? And when is the best time to rock climb?

A: Rock climbing season begins with the arrival of spring. And the ideal months are spring, early summer and early autumn; in the heart of the summer, due to the heat, afternoons are most pleasant.


Q: Is there equipment and gear available on the island? Training? 

A: During the summer months there is an instructor at the island that teaches and provides equipment to students. A facility to rent equipment is not available yet.

Q: In general, what should one know about this sport?
A: That it is a fun sport that, with the proper instruction, education and responsibility do not run any risk, and may entertain, exercise and come closer to nature.
Q: During the season where is more information available?
A: Information is available at Hara Café in town and on facebook:
https://www.facebook.com/climbing.schinousa
https://www.facebook.com/groups/climbing.schinussa