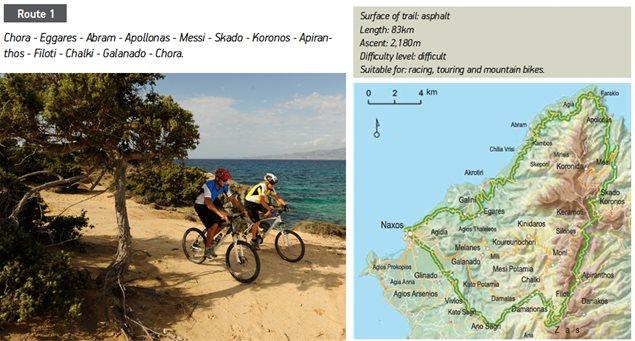 Route: Chora – Eggares – Abram – Apollonas – Messi – Skado – Koronos – Apiranthos – Filoti – Chalki – Galanado – Chora.
This impressive route includes a stretch along the almost uninhabited northeastern coast of the island which ends at the fishing village of Apollonas.
It features a precipitous coastline, with small bays, vineyards and herds of sheep and goats. From Apollonas–famed for its traditional gourmet tavernas- starts a long but not particularly steep uphill track to Koronos, the old, emery miners' village, which is worth a stroll around.
A short uphill stretch from Koronos to the wind power generators reveals a stunning view of the eastern coast and the upland valleys on the way to Apiranthos.
The use of marble as a building material marks this beautiful mountainous village. It is worth stopping at the four but interesting museums, as well as at the attractive, traditional cafes. Staying on a southbound course and after a short uphill, you begin the long downhill on the slope of Mt. Zas.
After going through Filoti and crossing the big olive grove, you arrive at Chalki –the island's old capital. Stay on the main road, leaving Sagri village on your left and, after passing through Galanado, you arrive at Chora.
Galanado offers a captivating view of the western coast of the island and Paros.