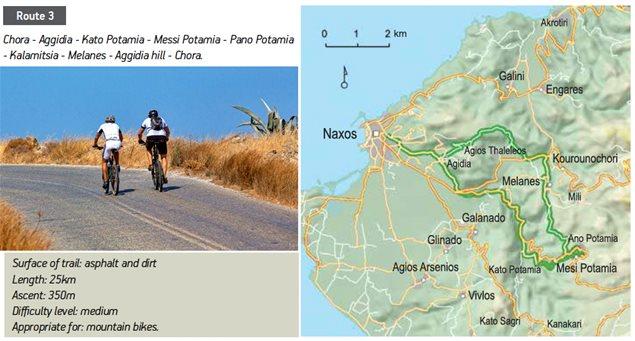 Route: Chora – Aggidia – Kato Potamia – Messi Potamia – Pano Potamia – Kalamitsia – Melanes – Aggidia hill – Chora
Ride off from Chora on the eastbound road to Aggidia.
After a short uphill stretch, you enter Papatrechou valley and head for Potamia. Go past a concrete cement production plant and, at the somewhat indiscernible fork towards Agios Mamas, near the waste collection bins, take the downhill on the right in Papatrechou ravine. At least one kilometer on, you arrive at the stream.
Turn left at the cement-paved, slightly uphill road and proceed along and old stone wall.
Turn right at the next crossroads for Kato Potamia. Pass through the village in an easterly direction and follow the old trail –initially uphill and then downhill- to the bank of the stream below Messi Potamia. Staying in the ravine amid the lush vegetation, you come to some stairs and soon reach the old watermill of Pano Potamia.
After a short uphill, go through the village to the small central square and then downhill to the taverna. Its enchanting garden and the excellent quality water from the spring next to it provide a perfect excuse for a break.
Stay on the asphalt road from the parking area in a northwesterly direction to Messi Potamia.
A small, cement-paved road from there leads to Melanes. The route is variedly uphill and downhill.
After passing the highest point, go downhill on the left towards the haunted ruin of the Jesuit monastery at Kalamitsia.
Return on the same dirt road in a northerly direction and as soon as you are past the mountain pass the view of the Melanes valley opens up in front of you. Staying northbound, ride through the narrow alleys of the upper neighborhood of the village, then downhill to the crossroads at the old olive mill and turn left on the main road in the direction of Agios Thalleleos and Chora.
At least 1km on, take a right turn on a cement-paved uphill in a northwesterly direction and you soon have the view of the Eggares valley and the northern coast.
Stay westbound on the initially uphill and winding route to Aggidia. From there, the country road leading to Chora is on the right.