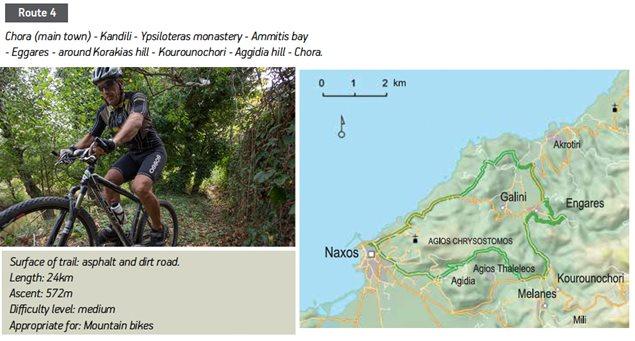 Route: Chora (main town) – Kandili – Ypsiloteras monastery – Ammitis bay – Eggares – around Korakias hill – Kourounochori – Aggidia hill – Chora
This is a greatly varied route on the hills around Chora.
The main northern road in the direction of Eggares village climbs along the precipitous coastline, heeding the contours of the area's small hills.
Once at the point of the new cemetery, exit the main road and turn left onto the secondary road headed in a northwesterly direction, towards the wind turbines. Enjoy the splendid view and start descending towards the fertile plain of Eggares.
Crossing the flat land with the farming plots, the route leads to the northern edge of the plain. Take a right turn here and follow the asphalted road section for a short distance. Before the bridge and almost straight on take the main road and head in an easterly direction until the end of the small valley.
Enjoy the tranquility and relaxation offered by the adjacent stream, dry in the summertime yet rich in foliage. Approximately 700m on, cross to the river's other side over a low cement bridge and carry your bicycle over the wide uphill stairs for a short distance until reaching a cement-surfaced road.
To the left, towards Messa Gitonia, head up the slanted valley.
Immediately after the water-pumping station, take a sudden right turn onto a rough dirt road that runs past Eggares until reaching the asphalt road connecting Eggares and Melanes.
Turn left at this point in the direction headed for Melanes. Turn right at the cattle farm and ride downhill along the main road headed for Chora, the main town.
Approximately one kilometer after the intersection for Melanes, exit the main road and turn right onto a small cement-surfaced road that leads to a section of the ancient aqueduct.
Continue heading uphill until reaching a point that opens up for a panoramic view of the Eggares plain.
Turn left and head west.
Pass by the antennas on your left and head downhill towards Aggidia and, from there, back to the main town.