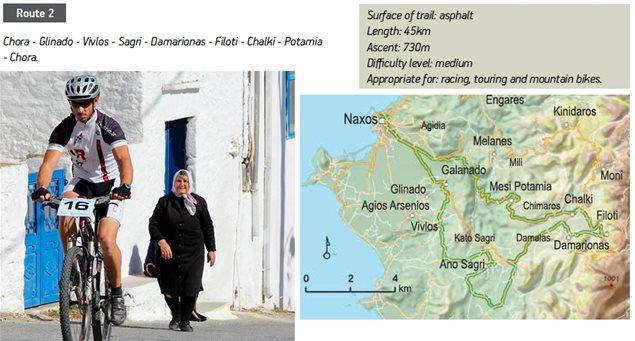 Route: Chora – Glinado – Vivlos – Sagri – Damarionas – Filoti – Chalki – Potamia – Chora
This picturesque route offers a great first impression of Naxos's varied landscape. Riding off from Chora,the island's main town, take a slight uphill in a southeasterly direction.
Once past Glinado, you reach Vivlos, a village offering a superb view towards the island's west coast, as well as Paros and the fertile plain that stretches south of the main town.
At the edge of the village, a sudden yet brief uphill stage and the ensuing slightly downhill stretch leads to two petrol stations, on the left and right sides of the road. Turning left at the intersection towards Sagri and passing through Apano (Upper) Sagri leads to the main road network.
From this spot, follow the road signs for Chalki, and, two kilometers before the village, turn right for Damarionas, a beautiful village without much tourism activity. Staying on this road leads (on the left hand side) to mountainous Filoti, a village offering a superb view of the Tragea plain and the island's mountainous massif. Look out for the numerous cafes and taverns along the village's main road for a small break.
Taking the main road downhill in a northwestern direction leads to Chalki. At the entry point to the village, take a left turn in the direction of Chora at the main intersection and continue cycling until the edge of the village. From here, take a sharp right turn just before the little bridge, pass by the village's last houses and follow the rural road towards Tsikalario and then Potamia.
This route takes you through the arid, rocky and shaly landscape featuring the remains of the Byzantine Apano (Upper) Kastro at the top of the mountain. Apano Potamia's refreshing gardens, running waters and taverna by the fountain are ideal for a rest. Carrying on along the asphalt road takes you through Paratrechou valley and back to the main town.