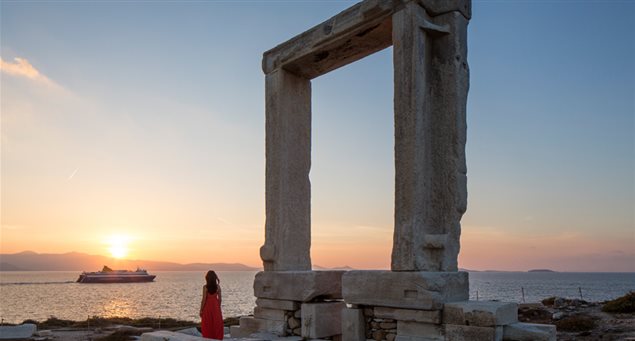 One of the Cyclades' — and Greece's — most visible ancient archaeological and mythical landmarks is located on the island of Naxos.  Arrive by sea and you can't miss it.
Upon entering Naxos main port, standing atop the islet Palatia are the remnants of the Temple of Apollo.
Distinguishable from afar is the towering Ionian-style 80-ton marble grand entrance, known as Portara*, a fitting metaphor, one might say, for the welcoming experience that awaits…
In honor of the God of Light, the temple, measuring 59metres x 28 metres was built in the 6th century BC.
The entrance to the temple, Portara (literally large door in colloquial Greek*) — on the western side of Naxos — and traces of the temple's foundations are the only remaining parts.
Two thousand five hundred years after its conception and construction, this very large marble entryway commanding over the vast Aegean continues to attract and greet visitors from all over the world.
* Portara, literally means very large door in colloquial Greek. It is a term derived from adding the superlative Greek suffix of "ra" to the word "porta" the Greek word for "door", thus the term porta-ra, or large door.
Mythical factoid:
According to Greek myth, the islet of Palatia, visible upon entering the port of Naxos, is where Theseus, son of the King of Athens and Ariadne, daughter of the King of Crete, stopped to rest on their way to Athens after having killed the Minotaur in Crete.
It is there where the God Dionysus was said to have first seen and fallen in love with the princess.
Sightseeing Tips:
• The Temple of Apollo and Portara is easily accessible on foot via a delightful pedestrian promenade from Chora
Suggested vantage spots to take a photo of Portara are:
• at the site itself on the islet of Palatia
• from the hill at Grotta – a natural path that begins just before the pedestrian walkway will get you there
• from the islet in the harbor, where the little white church Panagia Myrtidiotissa is located (accessible by small boat)
• and of course, by boat, if you are traveling by sea
Also interesting to know:
• Palatia is also a place where couples may exchange wedding vows