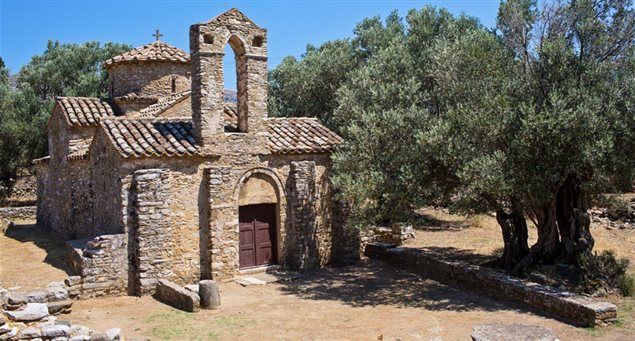 Scattered throughout Naxos – nestled lush green valleys of oak, maple, fig, olive and plane trees and atop mountains and hills — are hundreds centuries-old churches, chapels, cathedrals, and monasteries documenting the island's rich legacy of religious monuments.
Take a spiritual drive, hike or bike trip to explore one of Greece's largest collections of Byzantine churches, monasteries and fortresses, many with resurfaced frescoes and unique-to-Naxos religious architectural styles.
Visit the cluster of churches in what is informally known as the "Byzantine Park" in the Tragea region home to several outstanding examples of Byzantine architecture in the Cyclades, such as Panagia Drossiani and the 6th century fortified monastery of Christ Photodotis, Naxos' oldest monastery (trail #3).
Discover Naxos's "Little Mystras," a reference comparing the Byzantine character of the Sagri valley to the Byzantine citadel in the southern Peloponnese.
Take to the hiking trails on Naxos and traverse a variety of paths: some remnants of medieval roads, some cobblestone, others provincial, some winding, some shaded, others asphalt.
They lead to several of the over 200 Byzantine (and over 500 pre-and post-Byzantium) churches — 120 of them with original frescoes – dating as far back as the 6th and 7th centuries.
Here is a list of must-see churches and Byzantine monuments visitors can see when taking to one of Naxos's seven numbered hiking trails.
Keep in mind that a peek inside to many of these centuries-old monuments and their icons and frescoes may require the assistance of a nearby village caretaker who is keeper of the keys.
TRAIL #1 

ROUTE: Apiranthos – Agios Ioannis Theologos -Agia Kyriaki – Emery Mines

BYZANTINE CHURCHES TO SEE:

Byzantine Church of Agios Ioannis Theologos (13th c.)
Byzantine Church of Agia Kyriaki (9th c.)
TRAIL # 3

ROUTE: Danakos – Christ Photodotis – Tragea Valley [Pera Chorio -Apiranthos] Agios Ioannis at Finelia – Kerami – Metochi – Tragea

BYZANTINE CHURCHES TO SEE:

Fortified monastery of Christ Photodotis(initial construction: 6th c.) Naxos' oldest monastery with amazing views of eastern Naxos and the coast
Byzantine Church of Agios Ioannis Prodromos (11th -13th c., Kerami)
Byzantine Church of Agii Apostoli (10th -11th c., Metochi)
Byzantine Church of Panagia Protothroni (6th -7th c., Chalki)


TRAIL # 4

ROUTE: Tragea (Chalki)– [Agios Georgios Diassoritis]– Monitsia – Panagia Rachidiotissa – Moni – Kaloxylos – Akadimi – Chalki (circular route)
Byzantine Church (11th -13th c.) and spring of Agia Marina (Chalki)
Byzantine Church of Agios Georgios Diassoritis (10th -11th c, Chalki)
Byzantine Church of Agios Antonios (13th c., Monitsa)
Byzantine Church of Agios Nikolaos – Agios Dimitrios (13th c., Monitsa)
Byzantine Church of Taxiarchis, Rachi (13th c., Rachi)

Byzantine Church of Panagia Rachidiotissa (12th -14th c., Rachi)
Byzantine Church of Agios Issidoros (6th -7th c., Rachi, Monitsia)
Byzantine Church of Panagia Drossiani (7th c., Moni)
Byzantine Church of Agios Nikolaos (11th c., Akadimi)
Byzantine Church of Panagia Akadimiotissa (11th -13th c., Akadimi)
TRAIL # 5

ROUTE: Tragea (Chalki) – Tsikalario – Apano Kastro – Agios Andreas – Ano Potamia


Byzantine church of Agios Stefanos (12th- 13th c., Tsikalario)
Byzantine church of Agios Andreas, (13th- 14th c.)
TRAIL # 6

ROUTE: Melanes (Agii Apostoli) – [Kourounochori] – Myli – Flerio (sanctuary of the springs, ancient quarries) – Ano Potamia – Messi Potamia – Kato Potamia – Episkopi (Agios Mamas) – Mitropolou


Byzantine church of Agios Georgios (12th- 13thc., initial construction 4th -5th c., Melanes valley).
Byzantine church of Agios Mamas, (10th- 11th c., Episkopi)
TRAIL # 7
ROUTE: Tsikalario – Chimarros – Agios Sissois – Agii Anargyri – [Pyrgos Paleologou] – Sagri – [Agios Nikolaos] – Gyroulas (temple of Demeter and Kore)
Byzantine church of Taxiarchis (12th- 13thc., Chimarros)
Byzantine church of Agios Artemios (9th c., Sagri district)

Byzantine church of Panagia Orfani (11th- 13thc., Kato Sagri)
Complex of Agii Anargyri – Agia Marina – Agios Andreas (11th c., Kato Sagri)
Byzantine church of Agios Nikolaos (11th-13th c., Sagri)


also here: Αncient Temple of Demeter and Kore (6th c., B.C. Gyroulas, Sagri)