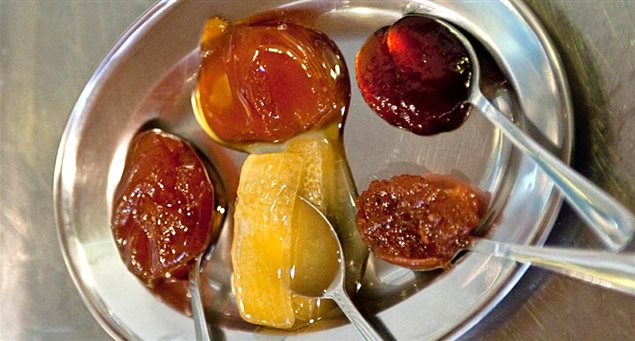 The rich culinary heritage of Greece remains timeless. Several reasons account for that. Holiday customs play a very significant role, as do the many vibrant villages and people who keep local recipes and culinary traditions fresh on the table. Such as the case with the spoon sweets, known as "glyka tou koutaliou" literally "sweet of spoon."
In the old days, in Greek homes, it was customary, when guests dropped in to say hi, to serve them a kerasma, (or a treat), usually a sweet, more specifically a "sweet of the spoon" known as glyko tou koutaliou.
"Every homemaker had to be prepared to serve a sweet," says Katerina Sideri, author of the cookbook toMaerio ths Naxou (the Cooking of Naxos).
In the cupboard was a jar or jars of these special sweets. Homemade with fruits of the area, preserved in sugar syrup, they were kept for company. Served in a dainty little round glass plate (usually with a fancy design) the plate was filled with just a spoonful of the dessert, as more would be just too sweet.
"The spoon sweets were functional solutions to utilizing the abundance of fruits that were available in the villages," says Sideri. "On Naxos, most villages had their own type of spoon sweet fruit."
Today, delightful jars of spoon sweets are found all over Greece; each area boasting their own special varieties.  On Naxos, for example, even today, Eggares is known to provide their lemon, citron and oranges for the sweet; Komiaki for its vyssino, or (dark cherry); Koronos for its walnut; and Chalki for its bergamot orange. 
And not only.
There is grape, fig, watermelon peel, and dozens of other types, based on savory and seasonal fruits and vegetables and the imagination an inspiration of the person preparing the sweet.
According to Sideri, there are several factors to consider for the sweet to come out just right.  It has to do with the amount of sugar, the sour or sweetness of the fruit and trial and error, at least for the newcomers to the craft.
When asked if there is a regeneration of the craft of making sweet preserves, Sideri is quick to answer: "It has never gone out of fashion.  And it is not by coincidence that it has remained timeless. It's a sweet that, except for the sugar content, has no fat. It is considered a healthy sweet. It has a long shelf life. And of course, it is a good way to use the fruits of nature."