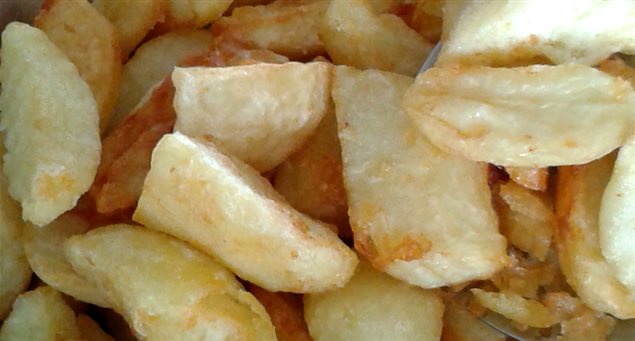 A potato is not just a potato on the island of Naxos.  It is one of its main local products, and one of Greece's best, thanks to the island's natural abundant water supply.
On Naxos you can find the potato boiled, stuffed, barbecued, souffled. It even has its own festival — every year in the beginning of August — that showcases its many tasteful varieties.
On Naxos potatoes have a long history. It goes back to the fertile land making Naxos – since 1950s — the official potato seed producer of Greece. According to research, the potato has been cultivated on Naxos since the 1700s.
Today, production is estimated at 8 million kilos per annum, a figure that can expand exponentially thanks to the modernization methods of gathering the potatoes and packaging them.
"We are equipped with the latest in technologically-modern machinery,
that we are constantly upgrading, says Michalis Vernikos, agriculturalist, at the Union of Agricultural Cooperatives of Naxos.  As long as there is demand we are able to provide Naxos potatoes."
Important to mention, according to Vernikos, is the evolution of Naxos's vibrant cheese and dairy industries; a direct result of the mere fact that hundreds of years ago local farmers realized that potatoesgrew more in the areas in which cows were grazing. This led to more cows, and not just potatoes but cheese and dairy products too.