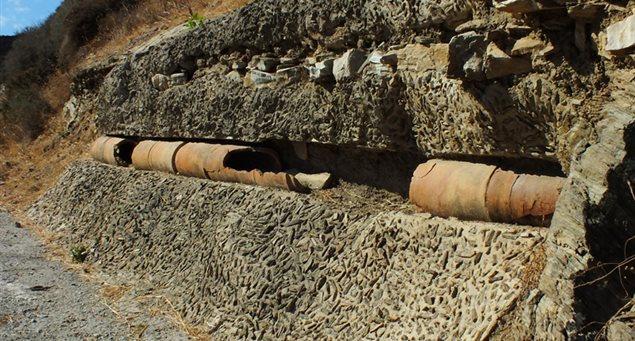 As early as the Archaic period, when Naxos island was ruled by the tyrant Lygdamis (550-524 BC), Naxians tapped the rich sources in the lush are of Flerio, Melanes and the neighboring area of Kampones in order to solve the water problem of Naxos city.
The first aqueduct (late 6th century) comprised clay pipes laid in a ditch. The second, constructed during the Roman years, features two clearly distinct phases and comprises a pipe built with hydraulic mortar, with underground and elevated sections.
Both aqueducts, following the same course, began from a source that can be seen under a later construction in a vegetable garden at Flerio today, crossed a distance of 11km and ended at a point in the city that has not been determined.
The elevated Roman-era aqueduct would have probably ended at today's Trani Fountana –a cistern constructed during the same period. Maintenance shafts that also served as water collectors existed along the aqueduct. 
The importance and degree of technical difficulty in the construction of the project is indicated by the fact that a 220-meter tunnel had to be dug through the mountain between Flerio and Kampones, in order to tap a source in the latter area.
The ancient aqueduct has been maintained, restored and can be visited at the following positions:
Barou –entry point of the underground tunnel
Kaminia -exit point of the underground tunnel
Katsopirno
Κatsopirno – Leftera
Leftera
Emazos
Perdikia
Faraggas
Agios Thalleleos
Agios Issidoros
Agios Stefanos
Τrani Fountana
Κastro
Τhe information center at Flerio has a wealth of relevant material.
Vassilis K. Lamprinoudakis
| | | | |
| --- | --- | --- | --- |
| |  Melanes | |  22850 62229 |
Directions for access
A Naxos public bus service (KTEL) is operated from Chora to the village of Myli, covering the entire length of the aqueduct.
Signposts on the main road direct to all accessible locations.
Parking
There are designated parking areas at Katsopirno (suitable for the positions of Katsopirno, Leftera and Voustassio) and Agios Stefanos. For the other locations it is possible to park nearby on the public roadside.
Accessibility for wheelchairs
Only the Agios Thalleleos position is accessible for wheelchairs.