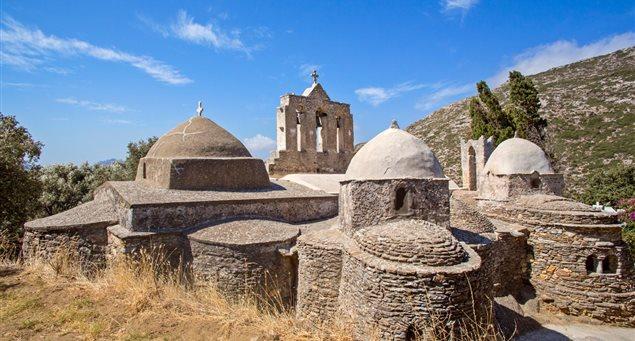 The Church of Panagia (Virgin Mary) Drossiani –a short distance from Moni, on the way to Chalki- is one of Naxos's oldest.
The church, part of an old monastery, has a unique architectural style, with bare stone-walls, a three-part attic with dome and three adjoining chapels on the northern side with square dome bases on their roofs.
Some of the frescoes that have been saved date to the 6th century and are considered among the oldest in the Balkans, while the rest belong to the period between the 11th and 14th centuries.
The church also features a marble iconostasis, marble stands for votive candles and the old icon of Panagia Drossiani – connected with many legends and traditions.
According to one of these, the church was so named because the area was blessed by Virgin Mary with plentiful waters and was therefore 'cool' (Drossia=coolness).
A small, picturesque cemetery is located next to the church.
| | | | |
| --- | --- | --- | --- |
|   | Daily |   | 11am – 5pm |
|   | Moni |   | Free |