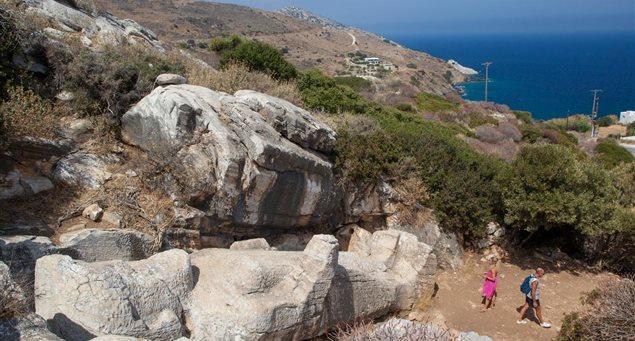 The most impressive sight in the ancient quarry of Apollonas on Naxos is a huge, half-finished statue, known as the Kouros of the god Apollo. 
The statue, lying in supine position and longer than 10m, dates to the 6th century BC and archaeologists differ on whether it represents Apollo or the god Dionysus.
The fact that construction of the giant temple of Apollo at Portara, the position overlooking the present-day port of Naxos, is considered to have started in the same period as the date of the statue, has raised questions whether the Kouros was somehow linked with the temple.
The statue was never finished, but it is unclear whether this was because it broke and a repair was impossible, or because its completion was cancelled, or because it was never paid for.
| | |
| --- | --- |
| Directions for access | The Kouros statue is very near the village of Apollonas and is accessed via a footpath. |