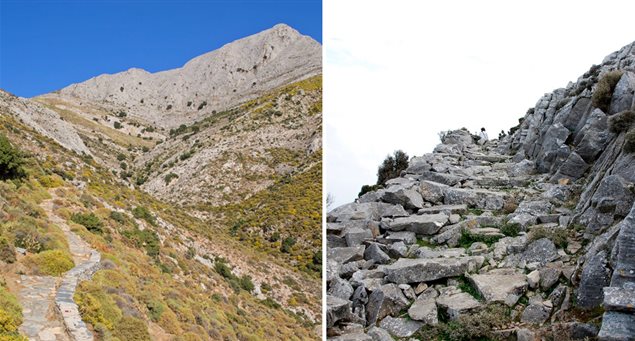 Route: Filoti-Agia Marina-Levgasa-Zas Summit-Zas Cave-Arion Fountain-Filoti (circular route)
Starting at the eastern approach to Filoti, Naxos's largest, animal farming village in the center of the island, the trail follows an uphill route from the chapel of Irini on a mountain slope with rich tree vegetation and vineyards.
It soon reaches the nodal point of Agia Marina, at the foot of Zas, the highest mountain in the Cycladic group of islands and named after Zeus, the Father of the Gods.
Further uphill is the Levgasa spring and the ancient inscription, carved in the rock, ΟΡΟΣ ΔΙΟΣ ΜΗΛΩΣΙΟΥ, meaning "Mount of Zeus, Protector of the Sheep." Τhe mountain holds great ornithological interest and hosts rare, endemic flora species.
The ascent to the summit (1,003m) offers unique views of the Aegean Sea and the other Cycladic islands. From the summit, the trail initially follows a northerly direction and then turns west, with a steep descent.
On the approach to Zas Cave, it becomes rugged and indiscernible.
The cave, where — according to mythology — Zeus grew up, is of particular historical and speleological interest. Archaeologists believe it was first inhabited in the Neolithic period.
The descent from the cave shortly leads to the Katafygi spring and then, on a restored, stone-paved footpath, to the Arion fountain – set in an appropriately arranged, idyllic location – a perfect resting stop for trekkers under the cool shade of an age-old plane tree.
The southbound trail to Filoti ends near a half-ruined windmill.
The last stretch back to the village is on the asphalt Filoti-Kalantos road.
Points of interest along route:

Barozzi Tower (7th century, Filoti)

Ancient mountain inscription

Zas Summit

Zas Cave

Arion Fountain