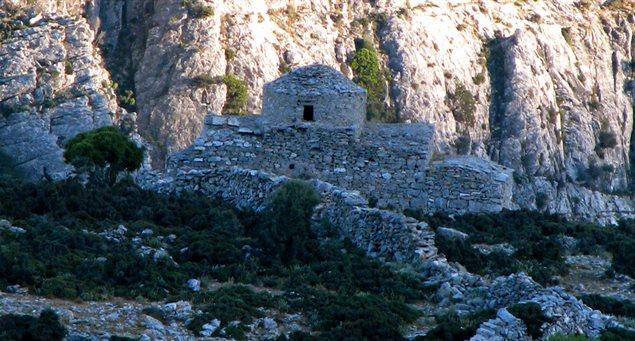 The 9th century church of Agia Kyriaki in the Kalloni area.
Route: Apiranthos – Agios Ioannis Theologos – Agia Kyraki – Emery Mines
This is the old mule trail treaded by workers from Apiranthos to the emery mines.
Stone paved for the best part, it crosses a lush and varied landscape.
The mountainous village of Apiranthos, reputed for its traditional architectural profile and rich folk culture, is the starting point. The initial, verdant stretch of the trail, is dominated by oak, almond, fig, wild pear and curly maple trees, as well as kermes oaks, and follows a direction parallel to the Karakogourna gully – replete with oleanders, wickers and bramble bush.
The Church of Agios Ioannis Theologos – the first stop after a small detour at the Afiklis area- is a rare example of an Asia Minor-type Byzantine basilica, built in the 13th c. on the site of an older church.
About halfway along the route, the landscape becomes rugged and the traditional stone work acquires a character of outdoor folk architecture, notably in the impressive bridge of Kamilaris.
Next stop is Agia Kyriaki in the Kalloni area – a church whose non-pictorial décor confirms that it dates to the 9th century period of Iconoclasm, when icons were hotly contested.
The trail then follows a smooth downhill to the emery mines of Kakoryakas, where interest centers on the old installations of the cable railway for transporting the ore, and the mining galleries.
The same footpath continues down to the coast, to Azalas beach.
Points of interest along route:

Byzantine Church of Agios Ioannis Theologos (13th c.)

Kamilaris bridge

Byzantine Church of Agia Kyriaki  (9th c.)

Emery mine installations at Kakoryakas