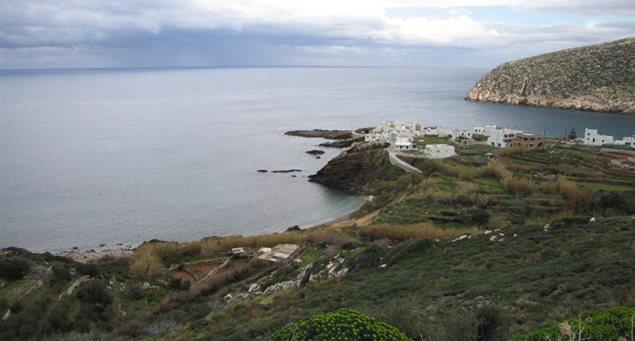 Koronos – Skado – Agios Nikolaos – Komiaki – [Hosti (Mycenaean tomb)] – Apollonas
The route starts at Platsa (small square) of Koronos, with rich history and probably the most representative of the emery producing villages of Naxos. Koronos, adorned by elaborate local wells (fountains), hosts a rich collection of folk art. Following a northerly direction at the exit from the village, the traveler crosses a rural area with numerous terraces, where the major attractions of the region are found, the Vrisi (fountain), two water mills and the chapel of St. John. Next stop is Skado, a picturesque emery producing village, where the traveler will encounter the historic church of Our Lady and an interesting folklore collection.
After Skado, the route follows briefly the main road. Then the path, passing through the positions "Heimarros" and "Anefama" crosses an area rich in arboreal vegetation. A short detour leads to the Byzantine chapel of Saint Nicholas. Approaching Komiaki, within a lush landscape of walnut and oak trees, there is a branch to a ravine where 5 surviving mills of the village are located, of which one is renovated. This impressive monumental ensemble is generally well maintained.
Komiaki, one of the most authentic villages in the mountainous heartland, retains a strong rural character. Before entering the village, the hiker encounters a renovated traditional stone treadle ("Linos"). The village has a church museum and a folklore collection. At the north exit of the village, a detour route leads to the Mycenaean tomb at "Hosti". In the cemetery of the village stands the Byzantine church of Saint George.
The descent to Apollona is on a neat paved path. The final section of the route is riverside. The conclusion of the trail on the coast of Apollona brings the traveler to this classic bustling resort of northern Naxos. In addition to the adjacent, partially completed archaic Kouros which attracts thousands of visitors annually, Apollonas is of particular historical significance because of recently identified relics of the archaic pier of the port.