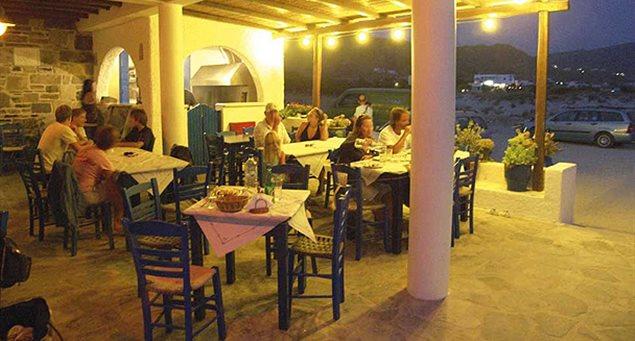 At the start of the 60s Yiorgos & Kalliopi set off from the mountain village Filoti & came down to the sea, setting up the tavern in Mikri Vigla in 1966 with only the barest of means available & without even access to electricity.
Yiorgos the father of the family, gifted with insight, knew from then that the future was by the seaside & the large family settled in Mikri Vigla. The family lived through hard times, with life revolving around the taverna in combination with other activities such as farming and stock-breeding.
With Kaliopis', the mother, and Yiorgos' care and joy in cooking, the fresh products (meat, cheese, vegetables, wine) produced by the family and the whole family's genuine spirit of hospitality, the tavern in Mikri Vigla over time became a favorite place to frequent and meet up with friends from around the world.
Today they continue with the family tradition, using the same fresh products produced by the family and with the same spirit of hospitality, building time-lasting relationships with each and everyone who honor them as a customer!
Mikri Vifla, Naxos
Tel: (+30) 22850 75214
mikri_vigla_liofagos@hotmail.com
http://mikriviglanaxos.com/