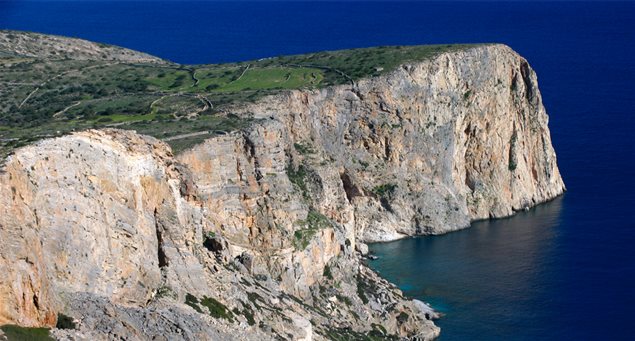 This 1.5km. footpath (about 45 minutes) leads to a spot of particular natural beauty, Merichas bay, surrounded by precipitous cliffs more than 100m high. Wild pigeons and predatory birds make their nests here. The route is graded of low difficulty.
| | | | |
| --- | --- | --- | --- |
|   | Panagia | | 45min |
Length of route
1,570m
Elevation data
Departure altitude: 185m
Arrival altitude: 285m
Grade of difficulty
Minimal degree of difficulty
Starting point
Panagia village
Means of accessing starting point (public transport, taxi or private car) and parking info
Panagia village is linked to the island's road network. During the summer months, local community bus service is offered free of charge, daily.
End of route
Merichas cliff
Means of departing from end of route
Hiking
Suitable season
All year round.
Main sights along route
Striking view of Merichas bay and nearby islands from the top. Wild birds may be seen overflying.