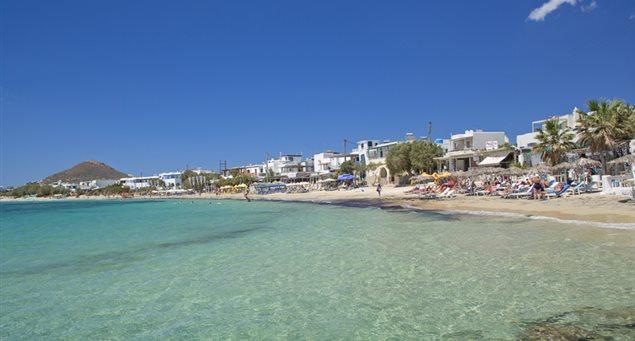 Agia Anna beach on Naxos Island, a continuation of Agios Prokopios beach, ranks as one of Naxos's most renowned coastal spots. During the 70's and 80's, Agia Anna beach was a major attraction for young tourists, Greek and foreign, seeking to camp at an unadulterated seaside spot. Though still a beautiful location, Agia Anna nowadays operates as an organized beach.
A juniper tree forest offering natural shade stands alongside the beach's seemingly endless stretch of golden sand. A picturesque little port with fishing boats lies at the end of the stretch.
Sun umbrellas and sun beds, set up in front of beach bars and taverns, are to be found along the beach'sgreater part.
However, the segment by the chapel is dotted with small and windless little bays that are ideal for greater tranquility and relaxation. A wooden ramp, appropriate for bicycles and prams, leads to the chapel, whose yard offers a splendid view.
Furthermore, Agia Anna beach on Naxos offers visitors plenty of water sport options as well as accommodation of various categories close to the sea.

 West coast, Chora
| | |
| --- | --- |
| Material on beach | Sand |
| Material in water | Sand |
| To whom the beach may appeal | Appropriate for all |
| Directions for access | Agia Anna is located 5km from Naxos port and 6km from main town Chora. Public transport to Agia Anna runs on a regular basis. |
| Parking | Parking space available at many points by the sea. |
| Public transport info | Bus routes are scheduled for every half hour from morning until late at night. |
| Accessibility for wheelchairs | May be accessed by wheelchairs. |