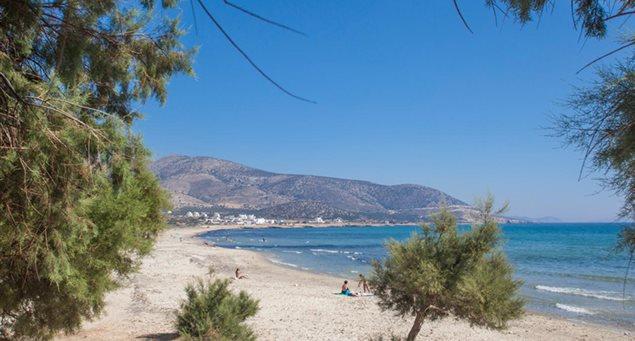 Agiassos beach on Naxos Island, offers an enticing 750-meter stretch of fine sand and crystal-clear, shallow waters on the southwestern coast of Naxos. It is one of the island's most unspoiled beaches.
To the side, the visitor may explore small inlets with caves suitable for spear-gun fishing, while a small wetland at one end hosts many bird species.
Also at Agiassos Beach on Naxos is a number of picturesque fish tavernas that offer excellent food, while those looking for quiet holidays will find rooms to rent in the summer hamlet behind the beach.

 Dmarionas

  South Wind
| | |
| --- | --- |
| Material on beach | Fine sand  |
| Material in water | Fine sand  |
| To whom the beach may appeal | Appropriate for young children, families, nature lovers, spear-gun enthusiasts. |
| Directions for access | May be reached either via asphalt road from Sagri (12km), or via dirt road from Pyrgaki (about 3km).  |
| Parking | Free parking areas. |
| Public transport info | A public bus service is operated in the summer season. |