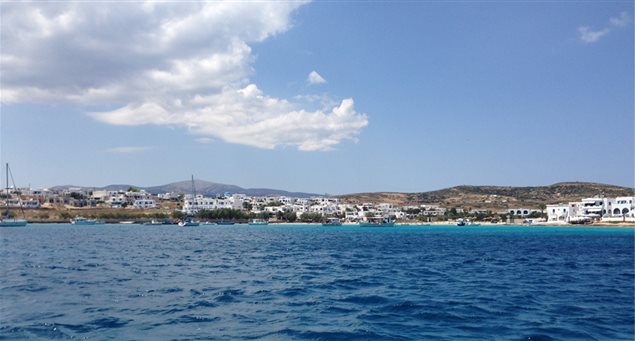 Agios Georgios, or Chora –- Koufonissi's virtually sole settlement– is a typical Cycladic fishing village with white-washed houses and picturesque alleyways around the port, where the characteristic windmill stands vigil.
In and around the settlement, on the island's southwestern coast, one can see the ruins of Roman baths, a traditional boat building and repair yard and more windmills.
The center is adorned by the pretty Church of Agios Georgios, the island's patron saint.
Chora accounts for about 90% of the island's tourism infrastructure, with an array of rooms-to-let facilities, hotels, tavernas, bars and cafeterias, as well as a postal office with an ATM.
Directions for access
The island's main road –only a few kilometers long- starts east of the port and most accommodation facilities are lined up along it. A free communal parking lot is located adjacent to the beach.
In the summer months a privately-operated bus does excursions from Chora to the various beaches, which can also be accessed by small boats from the port.
A helipad is located on the edge of the village.