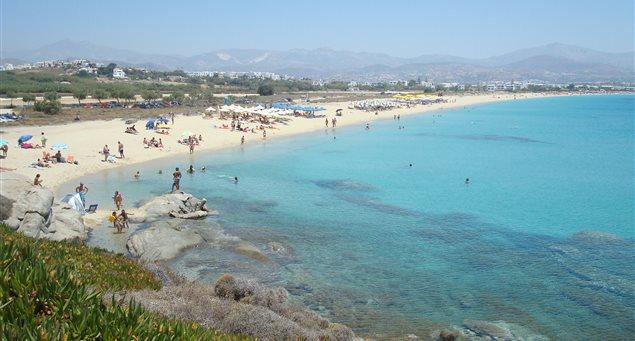 Agios Prokopios beach on Naxos island, located just 4km from the island's port, ranks as the island's most acclaimed, surpassing all others in terms of distinctions earned, both from Greece and abroad.
It has been rated as Greece's third best beach and among Europe's top ten. An enormous beach with coarse sand, the setting here includes sand dunes and crystal-clear waters whose color alternates from blue to deep blue and turquoise.
It operates as an organized beach with sun umbrellas and sunbeds set up along its greatest part, but also includes a quieter, less frequented segment at its western edge, where the chapel of the same name stands.
Most tourism-related shops such as mini markets, taverns, cafes, car and motorbike rental agencies, are located at the beach's eastern flank.
Abundant rooms for rent and hotel accommodation are on offer in the wider area.
Also, a variety of water sports facilities, including windsurfing, beach volleyball, and sea bicycles, are on offer here at Agios Prokopios beach on Naxos.
For visitors interested in nature, the saltpan, referred to as kokkini limni (red lake), is worth visiting. The lake frequently attracts herons.

West coast, Chora
| | |
| --- | --- |
| Material on beach | Coarse sand  |
| Material in water | Sand |
| To whom the beach may appeal | Appropriate for all |
| Directions for access | Agios Prokopios is located 4km from Naxos port, 5km from the main town, Chora, and is connected by regular public transport service. |
| Parking | Parking space is available at many points by the beach. |
| Public transport info | Buses run every half hour from the morning until late at night. |
| Accessibility for wheelchairs | May be accessed by wheelchairs. |