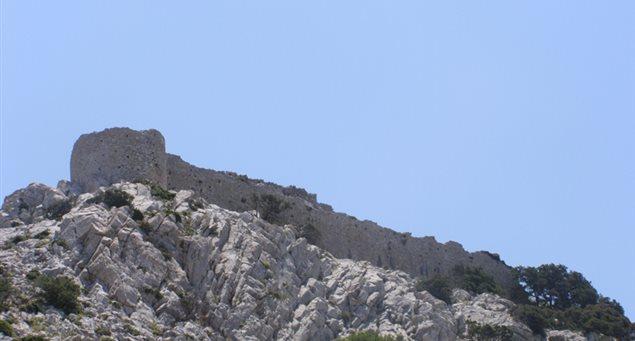 Towering on a steep hill over a fertile plain between Sagri and Agiassos on Naxos, this important Byzantine castle offers visitors fabulous views of the island's entire southwestern coastline.
According to recent research, Apaliros castle was not only a defensive bastion against pirate raids but also, especially during several centuries during the Byzantine empire, the center of a lively city with a relatively large population.
Though no record detailing the city's founding exists, abundant ceramic remains and coins found here suggest it was established before the 7th century.
It is certain, however, that Apaliros was abandoned in the 13th century when Naxos island was invaded by the Venetians of Marco Sanudo, in the years following the Fourth Crusade.
Apaliros stands as an excellent example of early Byzantine town planning. The remains of fortification walls, water tanks, storage facilities, ovens, churches, roads, an olive press and scattered evidence of some 250 homes are seen in and around the castle today.
Its appearance may have had similarities with that of the Byzantine citadel of Mystras in the Peloponnese but Apaliros castle was much older.
| | | | |
| --- | --- | --- | --- |
|   | Damarionas |   | 22850 3132 |
|   | Free | | |
| | |
| --- | --- |
| Directions for access | Accessible by car. Visitors should look out for a road sign on the left side of the road headed towards Agiassos, 2km from the fortified monastery of Timios Stavros. An accessible 500-meter track leads to the castle. |
| Parking | Parking is available.  |
| Accessibility for wheelchairs | Inaccessible for wheelchairs. |