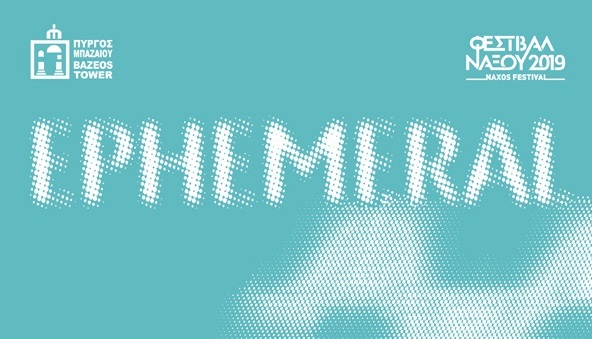 EPHEMERAL
Art Exhibition
Bazeos Tower, Naxos
25 May – 27 September 2019
Open Daily: 10.00–17.00
May is the month of artists at Bazeos Tower, Naxos:
Patrizio Bedon (ΙΤ) – Casa Essenziera (ΙΤ/ΖΑ) – Nikos Lagos (GR) – Anaïs Lelièvre (FR) – Vladimir Skoda (CZ/FR) – Sandor Zelenak (HU/JP). Guest participation: Alexandros Kaklamanos – Nikolaos Symeonidis & Amalia Kosma (GR).
They come from different parts of the world, they meet up, they coexist, they get inspired by the site's mystique, they create. Works of many art forms (visual, auditory, pictorial, olfactory) comprise the ephemera that engage in a summer-long discourse and reckoning with the ancient monument's age-old nature only to disappear shortly thereafter. They call upon the visitors to change their pace, banish tension, and sense the bliss of moving about, seeing, hearing, observing, being in the here and now.
A carpe momentum for the visitors who enter the tower, its historic and artistic microcosm and its surrounding space, transmuting their aesthetic perception into a life experience.
Info:
Bazeos Tower: Situated on the 12th Km of the main road linking the capital city of Naxos (Chora), with the seacoast of Agiassos.
Tel. +30 22850 31402
www.bazeostower.gr – www.naxosfestival.gr