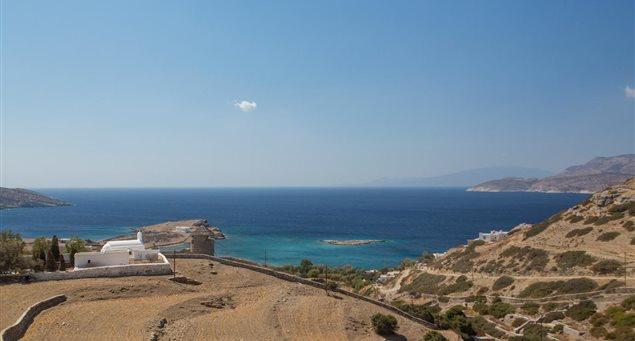 Schinoussa has a relatively smooth landscape and most places on the island can be reached on foot. Its highest point, Mylos, is at an elevation of 133m.
Its coastline, however, is highly indented, with a large number of coves, both sandy and rocky, and with some 15 quiet beaches suitable for swimming: Fykio, Almyros, Lioliou, Gerolimnionas, Livadi, Aligaria, Psili Ammos, Tsigouri e.a.
Τhe main cove, Merssini, is considered one of the best small boat shelters in the entire Cycladic region.
Schinoussa's semi-arid climate presents a relatively narrow range of temperature variations, with a mild winter (8-12°C) and a protracted summer period.
The annual rainfall level is rather low and for this reason the island faces water supply difficulties. Potable water is imported by ship.