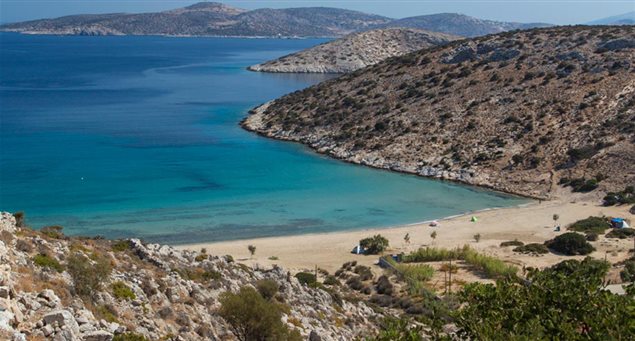 Iraklia's sandy beaches with crystal clear green waters, surrounded by a unique rocky Cycladic terrain, make this island one of the Small Cyclades' most calming summer destinations.
You can reach all of the following beaches via Iraklia's sea bus/taxi, Anemos and others by car and/or by foot.
#1 Livadi
 Beach
Livadi beach is Iraklia's largest and most popular beach located on the northeast of the island. It's sandy coastline and sparkling shallow waters attract families and visitors of all ages. Just a five-minute walk from Agios Giorgios town (where most of the accommodations are located) Livadi beach is an easy-to-get beachwithout losing its remote and natural charm. Keep in mind, the pristine character of this beach means there are no umbrellas or lounge chairs. The shade is limited and guests are recommended to bring umbrellas. The two beach bar cafes provide refreshments, snacks, shade and breather from the sun.
Access: via the coastal road and or/by foot.
#2 Agios Giorgios Beach
Iraklia's picturesque port — graced with colorful fishing boats with a view onto the main town just ahead — also features a popular sandy beach. The closest beach to the island's main accommodation and food area makes Agios Georgios beach on Iraklia, a popular choice.
Access: via the coastal road and/or by foot
#3 Karvounolakos Beach
South of the island, Karvounolakos beach is a small isolated beach located in a cove on the southern coast of Iraklia reachable by sea only via Anemos, the island's sea bus or private boat.
Access: by sea via Anemos the island's sea bus
#4 Alimia Beach
Snorkelers are sure to appreciate Alimia beach for its sunken WWII seaplane. The beach, in a sheltered cove, is best reached by taking the island's sea bus, Anemos, as the trek via trails, although interesting, is recommended for avid hikers.
Access: by sea via Anemos the island's sea bus/taxi
#5 Tourkopigado Beach
Two kilometers southeast of the town of Panagia is a small bay and beach, Tourkipigado. The view on the way to the beach is breathtaking.
Access: via the coastal road and/or by foot