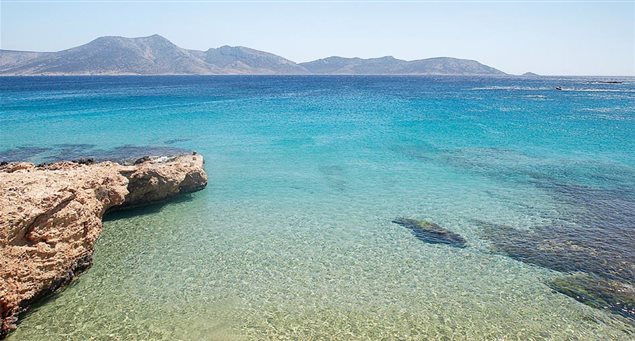 Koufonissia (actually two islands – the inhabited Ano or Upper Koufonissi and uninhabited Kato or Lower Koufonissi) have become a haven for modern day vacationers who appreciate the quiet, laid-back, no-frills, urban vibe of this popular summer destination.
Ultimately, a holiday on Koufonissia is all about going to the beach – on foot, by bicycle, or passenger boat.
Here is a quick guide to Upper Koufonissia's beaches and popular coves.
Upper Koufonissi is round in shape and covers an area of about 3.5 sq km.  The main port is located southwest of the island at the island's main town, known as Chora or Agios Georgios.
The island's main road, an asphalt road only a few kilometers long, begins here and runs parallel to the coast. Starting east of the port from Chora and its main beach, Ammos, the road eventually turns into a natural path. Heading northeast the road takes you through low hills and beautiful beaches along the way.
The beaches west of the port are: Parianos, Loutro, Spilia.
But Koufonissia's most popular beaches are on the southeast coast heading north, beginning with the town's central and crystal clear sandy beach, Ammos.
Along the road are the small sandy beaches of Porta and Chondros Kavos. A bit further along are the island's most popular beaches: Charakopou (also known as Finikas); Fanos; Platia Pounta, (also known as Italida) and the breathtakingly beautiful Pori with its sparkling white sands and emerald waters.
In between Platia Pounta and Pori are several small coves, caves, inlets and interesting rock formations the most widely recognized of which are Pisina (pool in Greek) because of the big pool-like formation made inside a rock and Mati tou Diavolou (devil's eye in Greek) a sea cave.
North of Pori beach is Gala (milk in Greek), a beach named after the white coloration of the waters and the sea caves of Xylobatis.
Good to know: There is no public transport on the island. And while most beaches are accessible via foot or bicycle, you might prefer to get to them by passenger boat.
Tip: There is a cafe and taverna at the beach at Fanos, Finikas and Pori. But it's good to take a bottle of water along the way.