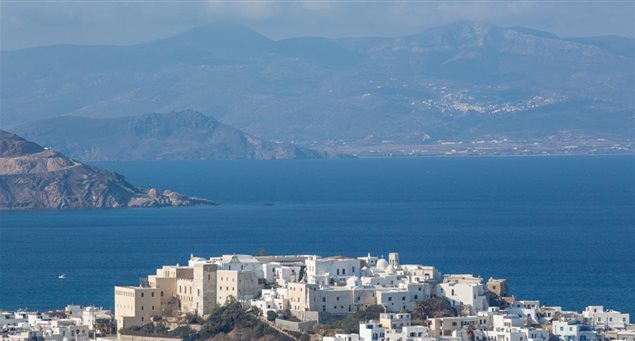 Indulge in some island hopping. Take advantage of Naxos' geographic location and discover a world of charm that awaits on several Greek islands that are accessible from Naxos.
Island hopping is a great way to discover a world of Greek-island charm. A hub in the circle of islands that surround the sacred island of Delos (known as the Cycladic islands), Naxos is a gateway to many popular Cycladic destinations.

Let's hop to it!
What are the closest islands to get to from Naxos? There are several. 
Let's begin with the group of islands known as the Small Cyclades. Of these islands, the closest to  Naxos is Iraklia, then comes Schinoussa, Koufonissia and a bit farther out is Donoussa.
The islands of the Small Cyclades:
The islands of the Small Cyclades may be reached — year-round — by the local ferry line, the Express Skopelitis daily, (except Sundays) and via Blue Star Ferries (www.bluestaferries.gr). Additional access to Koufonissia in the peak summer months is provided by additional sea transport companies, Hellenic Seaways (www.hellenicseaways.gr) and Sea Jets (www.seajets.gr). Days and times vary, so please check listings and or travel agent for specific details.
Island hopping to Other Cyladic Islands from Naxos:
Popular destinations of the Cyclades close by and accessible from Naxos include Amorgos, Ios, Paros, Mykonos and Santorini. The closest to get to by ferry and or catamaran is Paros. Access to Mykonos ranges from 25 minutes and 3.5 hours depending on sea transport schedule.  Access to Santorini ranges from approx. 1 our to 6 hours, depending on sea transport schedule. Following is a quick guide to help you (based on peak season travel). Always check with your sea transport provider and/or travel agent for specific timetables and details.