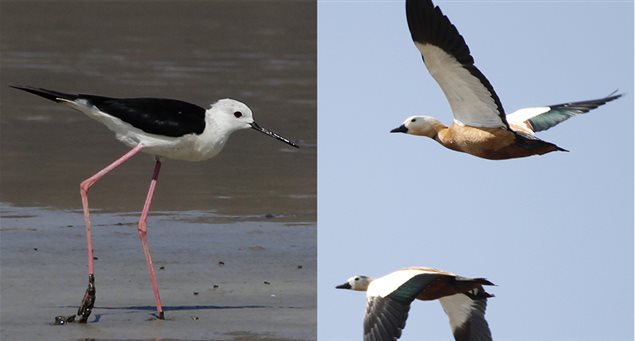 Q: When is the best time to bird watch on Naxos and Iraklia?
 
A: On Naxos, the best season is from late March to early May.
At the Alykes lagoon, next to the airport, there are large numbers of migratory birds, especially waders.
On Iraklia, the best seasons is April (mainly migratory birds); September (for passing prey mountain on Mt. Papas, Iraklia's highest peak-420 metres) and the months of December-January to observe the Griffon Vulture (Gyps fulvus) also on Mt. Papas during the mating season.
Q: What are the birds to look out for and when?
A: On both Naxos and Iraklia we may see:
Bonelli's Eagle (Aquila fasciata) a permanent resident, it nests in areas away from human activity. Observed mainly in the mountainous parts of the islands.
Eleonora's Falcon (Falco eleonorae) overwinters in Africa, arrives in May and leaves in October. It nests on islets. Observed mainly in June and October.
Griffon Vulture (Gyps fulvus) resident that nests on both islands and is most noticeable during the months December and January in the mountains. On Iraklia we see it on the ridge of Mt. Papas and on Naxos mainly in Agios Trifonas between the villages Filoti and Kalandos.
Cory's shearwater (Calonectris diomedea)-Levantine shearwater (Puffinus yelkouan) seabirds observed from March to October in all sea areas, mainly in the south of Naxos and on the islets.

 Shag (Phalacrocorax aristotelis) permanent resident of the two islands is observed mostly on the rocky shores.
Q: Where can you best view the Griffon Vulture?

A: These birds, native to Naxos and Iraklia, travel between both islands. On Naxos they may be spotted around Agio Trifona between Filoti and Kalandos villages. On Iraklia they are often spotted around Mt. Papas.
Q: What is the best time of day to bird watch on Naxos and Iraklia?
A: Noon to afternoon for the raptors and early morning and late afternoon for other birds.
Q: What specific numbered trail is best for bird watching on Iraklia?
A: On Iraklia: Trail #7 (Agios Georgos- Dexameni-Agios Athanasios) for small birds and trail # 1 (Panagia, Mt. Papas) for raptors.
On Naxos: I suggest you visit the Alyki lagoon and the many small coastal wetlands (Agios Prokopios-Mikri Vigla-Glyfada-Pirgaki-Agiassos-Kalantos-Abram-Ammitis Eggaron), the ravines at Potamia and Komiaki, the olive grove of the Tragea valley and the two trails leading to Mt.Zas.
Q: What about in the sea? What is the likelihood to see dolphins?


A: Visitors to Iraklia traveling from Naxos by ferry have 10% chance to see dolphins, year round,especially traveling in the southern part of Naxos (near Agiassos) up to the port of Iraklia.
Q: What kinds of dolphin frequent the area?
A: The short-beaked common dolphin (Delphinusdelphis; in Greek known as the koinodelphini, or common dolphin); The bottlenose dolphin (Tursiopstruncatus; in Greek known as rinodelfino;) and the Striped dolphine (Stenellacoeruleoalba; known in Greek as zonodelfino).
Q: What would you recommend an interested bird watcher bring with them?

A: Good hiking shoes, gloves, a telescope with a tripod as well as a good camera. On Naxos, clearly a car is needed to visit the places that birds frequent, as there is a distance between these areas.
For more information on bird watching on Iraklia and Naxos contact: Yiannis Gavalas at jgavalas2008@gmail.com.