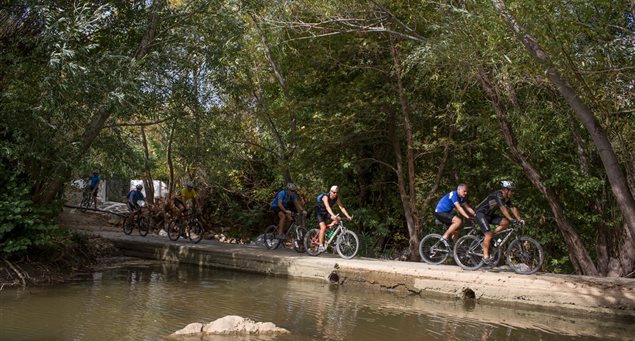 Certainly there are not many destinations that can boast a mountain biking route that passes a 6th century ancient temple, medieval fortress, Byzantine church, populated age-old mountain villages as it makes its way through mountains of marble, Cyclopean rock formations, massifs, green valleys, rivers, streams, gorges and roads that circumvent gorgeous blue seas… Welcome to mountain biking on Naxos.
The mountainous terrain of Naxos and its vastly varied countryside is amazing to discover, on foot, by car and by bike.
Vast blue-sea vistas are always there in the distance, but head into the heart of the island (at 435 sq km, it is the largest of Cycladic islands) and you are suddenly met with a diverse landscape that changes depending on which direction you are heading.
The coastal zone (91km) offers opens seas; head east for a steep rocky coastline; in between are ravines with plane trees, olive groves and clusters of oak trees to name a few.
An added value to mountain biking on Naxos is the chance to take part in an adventure sport while sightseeing!
Many of the trails include some of the island's fascinating sites. These six trails are sure to get you in the mood for mountain biking on Naxos.
A Naxos First:  As mountain biking is becoming more and more popular on the island, Naxos held its first Annual Mountain Bike Race in October 2013. The 22.5km (13.9 miles) technically-challenging race, started and terminated at the village of Sagri (11 kilometres from Naxos town) and took participants riders through a scenic route of mountain peaks, blue seas, green valleys and picturesque villages passing sightseeing highlights such as: the magnificent ancient (6th century) Temple of Demeter, villages of Sagri and Damalas and the 16th-century former monastery, Bazeos Tower.