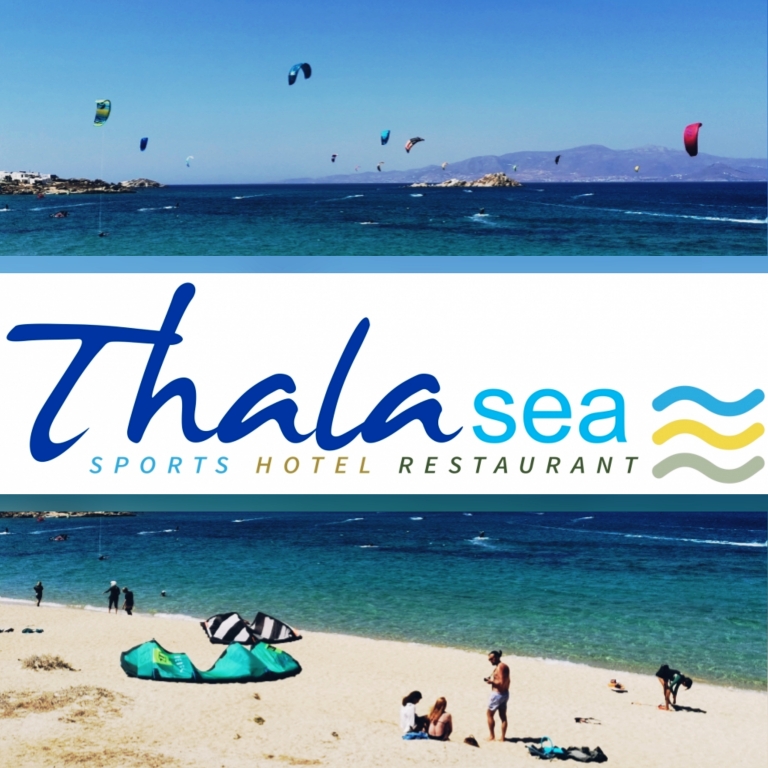 Kite Center Naxos by Thalasea Sports, established in 1997, IKO (International Kiteboarding Organization) affiliated since 2004, was Naxos' first Kite Center and still offers the best location right in the center of the kite spot on Parthena Beach, in the bay of Mikri Vigla, about 12 km south of Naxos Town. Their Thalasea Beach Bar-Restaurant is directly at the beach as well, with a relaxed chill-out area, so that a good time is ensured for everybody, kiters and non-kiters alike!
Whether you are a complete beginner, intermediate or advanced kiteboarder, Kite Center Naxos by Thalasea Sports has suitable solutions for all levels. They offer radio-assisted kite sessions with the latest and safest gear by the well established brands Cabrinha and North.
Advanced riders can rent some brand new Cabrinha or North gear. The kite rental package at Kite Center Naxos by Thalasea Sports includes access to kite sizes ranging from 5m2 to 14m2, as well as different sizes and kinds of boards. ION Wetsuits, harnesses, impact vests and helmets are included in the rental package.
For those who stayed true to windsurfing Kite Center Naxos by Thalasea Sports still offers a limited selection of windsurfing gear (JP boards from 85 to 105 liters and Duotone sails from 3.7 to 5.8m2).
Kayak rentals are also available to keep you entertained on those no-wind days.
Open from May to October (On request even April and November). Showers, toilets and changing rooms available. Also check out their on-site Surf shop for lycras, harnesses, wetsuits, other apparel and 2nd hand kite equipment!
Contact:
Kite Center Naxos by Thalasea Sports
Location: https://g.page/r/CeoArV3–bk6EBA
Tel./Whatsapp: +49 1522 4366127
E-mail: info@thalaseasports.com
Website: www.thalaseasports.com
Facebook: https://www.facebook.com/naxoskitecenterbythalasea
Instagram: https://www.instagram.com/naxoskitecenterbythalasea/